Sprint to enter the cell phone payments era with its own mobile wallet service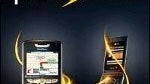 Sprint's Director of Open Enablement (what a title) Kevin McGinnis gave a lengthy interview on where the carrier is heading with its new Sprint ID service, and some interesting tidbits were spilled. Sprint will be launching a
mobile wallet service
very soon, which will serve as a container for different billing vehicles - PayPal, Google Checkout and Amazon being some of them. You will also be able to directly enter your own credit/debit card info in it, and choose what to use it for.
The details were disclosed in connection with how the Sprint ID packs will be created and distributed. Mr McGinnis said that the IDs will give users an upgrade to the stock Android interface, that is not made by an OEM phone manufacturer, but rather customizable to the user's preferences. Sprint will give tools to content providers for their own IDs, such as ESPN having a go with their premium pack, and it will also provide different ways to pay for and monetize the premium content, that is where the mobile wallet service will step in.
Carrier billing is an option as well, which will be the least cumbersome method for users, but Sprint is reluctant to just put out an API to connect its billing system for now. The carrier will discuss the mobile wallet service in more details at the conference it is organizing for developers in the end of October.
source:
FierceWireless

Sprint ID packs