Mobile Payment Systems - the wallet in your cell phone
5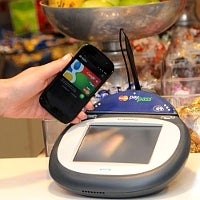 It's one thing to say mobile payments will gain traction in the US, and in their NFC variety, what we did in an editorial last year, extrapolating from the experiences of other countries, and another to amusingly watch how things actually played out a year later. By now it's already widely accepted by analysts that mobile payments are set to explode in the US come 2012, but which of our last year contestants made the cut, and who is most likely to come out on top next year, if the world is still intact?
Most surprising were the announcement of
Google Wallet
, and the downsizing of the
carrier-backed model ISIS
. On the other hand, it certainly seems that the traditional payment processors like Visa and MasterCard are winning the battle once again. Bi-winning, we'd say, since they are both planning their own mobile payment networks, layered on top of their existing ubiquitous infrastructure, and will be providing the backend for other initiatives, like Google Wallet.
That explains to a huge extent why the carriers toned down their plans for mobile payment domination with ISIS. Actually carrier-billing is something they can roll out successfully – after all, they are huge as revolving payments processors – but because Visa and MasterCard are so superior in brand recognition and an already established global payment network, people are naturally inclined to trust them before anyone else with the issue of cash stored in your cell phone.
Osaifu-Keitai
Notorious for their high-tech way of life, the Japanese love and trust their gadgets like hardly any other nation. Nowhere is that relationship more explicitly displayed than in the most private of all gizmos – your cell phone. What is even more stunning, though, is not just the hardware of the Japanese handsets, it is the services offered for them from the mobile carriers in the land of the rising sun. Of greatest interest for this article is "Osaifu-Keitai", translated as "mobile wallet".
On July 10th of the distant 2004 the joint venture of Sony, NTT DoCoMo and a couple of local banks, introduced a mobile payment system for the carrier's customers, that was subsequently licensed by the other Japanese cell phone operators, and today more than 60 million subscribers have cell phones with Sony's near field communication FeliCa chips. The technology, in a nutshell, can serve as your mobile wallet, credit card, access card, loyalty card, or fare collection on public transits like metro, trains, buses, even planes – all combined in your phone.
Europe
Europe is steadily advancing towards a unified payment system but it faces many hurdles before a common system is introduced, especially now with its financial system woes. The EU market is more ragtag than the ones of US or Japan, for example, as it has to reach consensus among 27 member nations before anything is introduced, and that is a lot of red tape to overcome.
Maybe that is why Visa Europe and MasterCard chose Turkey for their pilot NFC projects. Stopgap contactless payment methods have been developed to cover the time until smartphones begin shipping with NFC chips inside - like
Visa's microSD card solution for the Samsung Vibrant
, provided by the Texas-based DeviceFidelity, and the MasterCard project executed through a SIM card plus antenna contraption, courtesy of Gemalto, both of which are being tried in Turkey. The Dutch from Gemalto were also contacted by Apple for a
programmable SIM card and possibly NFC chips inside the iPhone
.
Not to be left in the dust,
the biggest UK carriers hammered out an NFC alliance
under the Everything Everywhere carrier cooperation initiative, for the "
rapid development and delivery of new mobile marketing and payment services
". Ericsson launched a mobile payment network of its own in seven key European countries, called Ericsson Money, which allows anyone with such an account to send and receive money from their cell phone.