Spotify announces Snapchat integration, lets users share music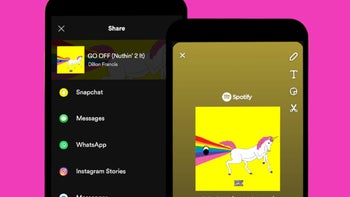 Spotify has just
announced
integration with
Snapchat
, which will allow users to seamlessly share what they're listening to in a Snap story. The update that brings integration with Snapchat will enable Spotify users who have the social app installed to share their favorite tracks, playlists, albums, and podcasts.
Sharing Spotify content to Snapchat is quite easy and can be done in four steps:
Tap the "share" menu while you're listening to any song, album, artist, or podcats.
Select "Snapchat" from the dropdown list.
Snapchat will open a new Snap with the full album art included.
Edit and send to how many people you want or to your Story.
Keep in mind that if a friend sends you a Snap with a song, playlist, artist profile, or podcast rec included, you will be able to stream by swiping up from the bottom of the screen, tap the context card with song, artist, playlist, or podcast info, and then simply waiting for
Spotify
to open and play the content.
Spotify integration with Snapchat will be available on both Android and iOS devices in the coming days, so keep an eye out for a new update for either of the two mobile platforms.