Soulcalibur lands in the Google Play Store
3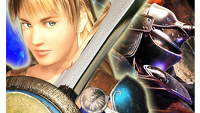 Soulcalibur, arguably one of the most popular and successful fighting games for Sega Dreamcast ever released, has recently received its Android port. The original game was released in 1998 and was ported to the iOS platform in the beginning of 2012. Now, more than a year and a half later, it has finally hit Android.
Soulcalibur is a fighting game that pits various characters against each other in a weapon-based combat. The game features 19 playable characters, each armed with different, often ridiculously big, cartoony blade or similar cold weapon, used to wreck havoc upon the enemy in a bloody 3D duel. Each character offers different combos and fighting techniques.
The player can control the characters with the aid of an on-screen virtual gamepad. The Android version of the game, however, doesn't support multiplayer, unlike its iOS sibling, which allows two gamers to play against each other via a Bluetooth connection. In order to download and install Soulcalibur on your Android device, you will be charged $6.67, which is the currently discounted price the game will be selling for during the next two weeks. The sale is also present for iOS devices.
Download: Soulcalibur (
Android
|
iOS
)
Recommended Stories