Sony i1 Honami interface and camera app ported to Xperia Z for some sample shots
32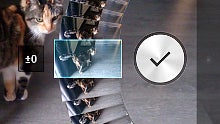 The
Sony i1 aka Honami
cameraphone
system dump
from the other day has resulted in someone porting the software to the
Xperia Z
and other Sony gear, albeit unofficially, of course.
We are looking at a somewhat updated interface indeed, but the biggest changes are within the camera app.
If anyone doubts that the camera on the Honami will be above average in terms of functions, they need to just have a look at the photo options in the slideshow below. Here are the subtle UI changes at first blush:
The title bar and backgrounds for holo apps look similar to the Xperia Z but are not textured. There is apparently noise added to the dark app background, but it's hardly noticeable. It's overall a flatter look.
Gone is the SoMA font. The UI uses Roboto throughout the system. There are a couple areas, such as the lockscreen clock and the plain digital clock widget, that use a font known as SST.
Check boxes and radio buttons have a new look. Instead of the check mark/radio being coloured, the background is coloured (when the box is activated).
Progress bars look more like holo progress bars, except with matching accent colours, like in the 2012 Xperias.
Sliders and switches are still metallic and have the matching accent trail. The slider itself looks a little bit more refined, but nothing drastically different. Slider trails are not holo, but are not similar to the Xperia Z design.
Section headers of lists will match the accent, along with dialog titles (as well as dialog dividers like in previous versions).
Tabs are 3d and do not have any relations to accents, the content inside the tab will match the accent colour whether it's an image or text.
Transition animations are different, but have some similarities to the Xperia Z's, where it fades and floats up.
Here are some images of what the framework may look like in Honami, based off the default (blue) accent. This is on my Xperia arc with my modded framework-res. Remember, don't look at the apps themselves (I'm using ICS Xperia apps), but the smaller things such as switches, check boxes, radio buttons, action bar, tabs etc.
There are also a few pics taken with the Xperia Z loaded with the Honami interface and algorithms for an initial overview of the postprocessing amount one might expect from the Honami.