Sony announces Xperia E - affordable Android with HD Voice
30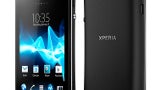 Sony has just announced the latest addition to its Xperia line-up, and this time it's an affordable solution called Xperia E. The handset seems compact for today's standards but features Sony's recognizable design language, which we quite like. The stand-out feature Sony wants us to note in the Xperia E is HD Voice, the purpose of which is to noticeably boost the sound quality of phone calls. No more calls from beyond!
When it comes to specs, the Xperia E will deliver a mid-range experience with its 3.5" HVGA (320 x 480 pixels) touchscreen and 1GHz processor. Let's hope that Jelly Bean's Project Butter will help get rid of the lag. Sony also claims that we'll be surprised by the battery life of the device. The 1500 mAh battery will benefit from a special extended stand-by mode designed to increase overall battery life. Basically, when the phone's sleeping, it will disable all functions except for calling and messaging, and once you wake it up, all functions will be restored to their normal state. Of course, users will be able to enjoy Sony's "Walkman" music experience, as well as the xLOUD sound technology, which works really well in most Sony smartphones.
The Android 4.1-powered Xperia E is scheduled to launch in Q1 2013 in both single-SIM and dual-SIM variants.
source:
Sony