Sony Xperia Z5 Compact hands-on
31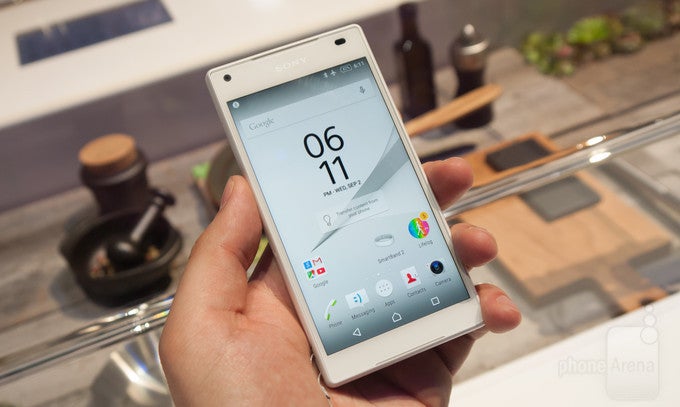 A year after Sony announced the Xperia Z3 Compact mini flagship, the Japanese company is ready for a refresh of its line of small, but extremely powerful devices. Like the Xperia Z3 Compact, the Z5 Compact also skips ahead, leapfrogging the Z4 moniker, but that (once again) doesn't mean that it's a vastly superior model than what Sony already has on the market — at least not on paper. We managed to get our hands on the exciting Z5 Compact during Sony's event at IFA 2015, and we're ready to share our first impressions. Let's go!
Design
In any case, it's not all same old, same old in terms of design, and the Z5 Compact arrives packing a fingerprint scanner nestled within the power button available on the right. From the little time we spent using it, the sensor proved to be a more than adequate implementation with good sensitivity and high success rate, though tactical feedback left something to be desired.
Finally, as we've come to expect from Sony devices, the 8.9 mm-thick Z5 Compact is well-protected against the elements, featuring IP68 certification, meaning that it's water- and dust-resistant.
Display
At some point during pre-production, Sony must have decided that it's perfectly happy with the 720p display of the Z3 Compact, so, naturally, the Z5 Compact doesn't improve in this regard — at least on paper. Indeed, we've still got a 4.6-inch, 720 x 1280 pixel resolution IPS LCD display that we reserve the right to properly test before labeling it as good or bad (or mediocre!).
Processor and memory
Sony might have skipped on display improvements, but it obviously felt that the Z5 Compact ought to continue the mini line's legacy of providing top-notch performance. To that end, we're looking at a 64-bit, octa-core Snapdragon 810 processor by Qualcomm, coupled with an Adreno 430 GPU and 2GB of RAM. Obviously, it'll be interesting to see if the temperamental Snapdragon 810 will behave itself.
As for storage, potential buyers will have the chance to get their hands on up to 32 gigs built-in, though a microSD card slot remains available, so you can go wild if you're the kind that like to bring their DVD collection with them when on the go.
Camera
Another area of seeming improvement is the main camera, which has been bumped to 23 megapixels, up from 21 megapixels. The package apparently includes a sensor that is exclusive to Sony, hidden underneath a wide,
f
/2.0 lens. As for the selfie snapper up front, users will have a 5.1-megapixel unit at their disposal.
Thankfully, Sony didn't leave it at just that, and is also introducing an updated camera app, the highlight of which is that we'll finally be able to shoot in full resolution whilst inside Intelligent Auto mode. This is a departure from the company's philosophy of old, which limited the mode to using just 8 megapixels, and we can't help but wonder how well it'll do out in the real world.
Expectations
The Sony Xperia Z5 Compact packs a 2,700 mAh battery, Android 5.1.1 Lollipop, and comes in black, white, yellow, and "coral". These specifics round off the list of already impressive hardware specs, though we can't really argue that this is some kind of revolution. At most, the Z5 Compact brings evolutionary improvements to the table, and we'll reserve a final verdict until after we've had the opportunity to spend some more quality time alone with the mini super-phone. Until then, sit tight with us and ponder over the device's as of yet unannounced price and release date.