Sony Xperia Z3 underwater unboxing results in deep blue selfie
29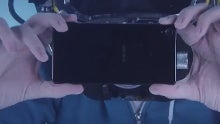 Among its many other virtues, the
Sony Xperia Z3
has one of the highest dust- and waterproof ratings this side of rugged unwieldy bricks like the CAT Android series. It is IP65/68 certified, and can last more than an hour in up to five feet of water without damage to its internal organs.
As if to prove that point, British electronics retailer chain Carphone Warehouse chose precisely the Xperia Z3 for the first underwater unboxing video. It looks, like, well unboxing done a few feet under, and takes a heavy toll on the cardboard box, while the Xperia Z3 escapes unscathed.
The Xperia Z3 upgrades in a few main areas, compared to the
Z2
- its screen brightness and processing power now rival or surpass those of the direct competitors, while its pretty unibody glass chassis is made even thinner, still keeping the high waterproof rating. In addition, our battery benchmark placed it in the top 5 battery marathoners currently, so there's plenty to get excited about even if we don't count the high waterproof rating.