Sony Xperia XZ Premium size comparison: How big exactly is Sony's big phone?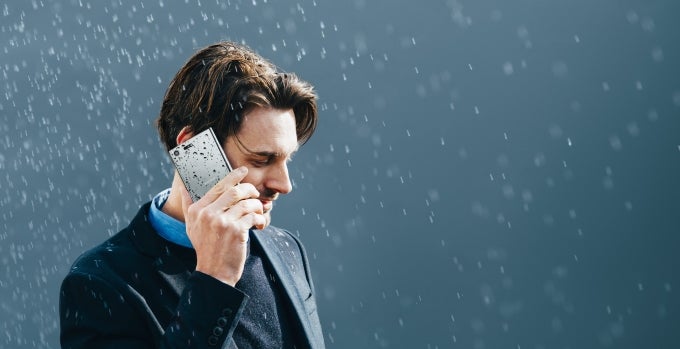 The Sony Xperia XZ Premium is a big, bulky phone. In fact, it's so big that it easily dwarfs most of its competitors. It's so big that we'd only recommend it to gentlemen with bigger hands. Otherwise, it would feel awkward to use and uncomfortable to hold. But how big is it exactly?

Well, the Xperia XZ Premium measures at 6.14 x 3.03 x 0.31 inches (156 x 77 x 7.9 mm) and it weighs the whooping 6.87 oz (195 g). This massive body houses the big, but not unheard of 5.5-inch display. So, why is the Xperia XZ Premium so big? Because bezels, that's why.
Sony Xperia XZ Premium vs Google Pixel XL vs Samsung Galaxy S7 edge vs iPhone 7 Plus
When we put these four phones side by side, we see that the XZ Premium is bigger than almost all of them. It's both taller and wider than the Pixel XL, although just by a little bit, but it's a tad thinner. Comparing the Galaxy S7 edge and the XZ Premium, though, paints a different picture.
The Samsung handset almost looks like it's not in the same category, despite both of them having 5.5-inch displays. The Galaxy S7 edge is not only smaller in all three dimensions, but it's also much lighter, by almost 25%.
The only phone of the three that rivals the XZ Premium in both size and weight is the iPhone 7 Plus, although it too falls a little short. While it is taller and wider than the Sony, it's a bit thinner and lighter too. So, there's no clear winner in the battle between Goliath and Goliath here.
Sony Xperia XZ Premium vs HTC U Ultra vs Huawei Mate 9 vs OnePlus 3T
Okay, can we all agree here and now that the size of the HTC U Ultra was a bit of an overkill? Sony seems to agree, as it has not made their phablet bigger than one could handle with two hands. No one has the pockets for that, HTC. So, we're happy to say that the new Sony is much smaller than the U Ultra in all three dimensions. It's still heavier, though, be it by just a little.
In fact, the Xperia XZ Premium is almost on par with the Huawei Mate 9, when it comes to size. It is a bit narrower and shorter, but the two share the exact same thickness and nearly identical weight.
Compared to the OnePlus 3T, though, the XZ Premium is a behemoth. The OnePlus is much smaller and lighter, without compromising any screen size.