Sony Ericsson previews the Xperia X10 with Gingerbread, update coming August
10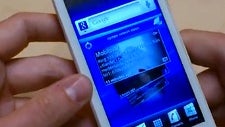 Sony Ericsson's flagship for last year, the
Sony Ericsson Xperia X10
, might not be able to compete with the latest of smartphone heavyweights, but its 1GHz Snapdragon processor and 4-inch screen still make it a capable device. The X10, though, doesn't even support system wide multi-touch and has been struggling with earlier versions of Android for quite a while. That's why news about an
update to Gingerbread
was warmly received by users in March. The update hasn't come yet, but it seems ever so close to release, as Sony Ericsson itself previewed the new features coming with Gingerbread for the X10. Regrettably, the
Xperia X10 mini, mini pro and X8
are stuck with Eclair 2.1
as they don't have sufficient memory for the update.
The video below demonstrates the
performance of Android 2.3
, and even though it uses a prototype phone with near-final beta software, it should be representative for the experience you'd get. Basically, you'd get an interface similar to the one on the Sony Ericsson Xperia arc and neo, but also some features like Facebook inside with media discovery allowing you to stay in the know about the latest musical crushes of your Facebook friends. Sadly, you don't get DLNA with the update.
You'll have the same
camera interface
as in the current version of the X10, with face-detection and auto-focus, which is slightly more than the features in the standard Android camera app. Gingerbread also brings the possibility to install apps on your SD card, along with tethering and Wi-Fi mobile hotspot capabilities. But while most of you know about those features, it's the release date of the update that's really what matters. Sony Ericsson has confirmed that the
update will start rolling out in the beginning of August
, but if you don't have the generic handset you might not get the update initially. Feel free to check out the demonstration and share your comments below, while exercising the virtue of patience with Android updates.