Sony Ericsson Xperia X10 Review
25

This review has been updated on 29.03.2010.

This is a global GSM phone. It can be used with T-Mobile's 1700MHz 3G band, and with AT&T USA without 3G. The
American version
supports AT&T's 3G network.


Introduction:
Sony Ericsson Xperia X10
makes for an illustrative example. The device has haunted our news section on a weekly basis since the first time we caught wind of it last summer. Some of you that do not share our excitement about cell phones may wonder why this... and here is the answer:
The Sony Ericsson Xperia
X10
is the first Android device of the manufacturer and the operating system itself has been causing quite a stir in the cell phone world in the last year. The handset comes with downright monstrous hardware features and as of today, there is simply no other cell phone based on the same platform to rival the X10 and we hardly need to say anything other than "4-inch screen, 1GHz Snapdragon processor and
8.1
-megapixel camera", although Timescape and Mediascape add a truly unique touch to the interface personalization.
We are beginning our review of the Sony Ericsson Xperia X10 in high spirits and with sky-rocketing expectations. Despite the almost irresistible desire to tear the box open the minute we got it in our hands, we took time to notice it does remind of boxes that handsets like the
HTC HD2
and
HTC Hero
come in. In other words: small, white and elongated. This does not come as a surprise really, because the current trend dictates that manufacturers should use the least amount of materials in order to make boxes as ecologically-friendly as possible. So, what´s inside?
- Sony Ericsson Xperia X10
- 8GB microSD card
- Headphones
- Wall charger
- USB cable (plugs into the charger)
- User guide
Just like most cell phones these days, the Xperia X10 comes without a carrying pouch. The boxed headset is actually the MH500 that happens to be one of the best pairs that can be found with Sony Ericsson devices these days (we first saw it with the
Xperia X2
).
Design:
If we have to describe the Sony Ericsson Xperia X10 in just one word, it would be "BIG". In two words – "VERY BIG". In three... Ok, let´s just not run to extremes here, shall we? It´s only logical the handset is on the bulky side, given the huge, 4-inch display it integrates. Some people would probably be more than happy to live with the massive overall size of the Sony Ericsson X10, but we need to point out this is not a cell phone you can use with one hand. Similarly to the HTC HD2 that is a tad wider actually, you will not be able to reach the farthest parts of the screen with your thumb if holding it in one hand. Fortunately, the back is slightly curved and the X10 fits well in hand. The weight is properly balanced, meaning the cell phone is not overly hefty and discomforting to carry around in your pocket, although you will be aware of its presence at all times.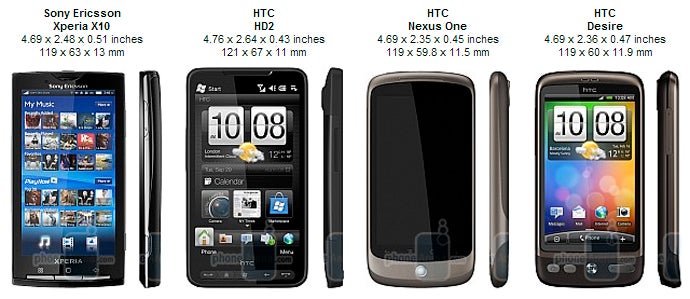 You can compare the Sony Ericsson Xperia X10 with many other phones using our
Size Visualization Tool
.
4-inch display
equates to a bulky size, but what else does it bring? For one, good image quality, that´s for sure. It features native resolution of 480x854 pixels, but the rather modest, for a device that rolls out in 2010, 65k color support. The screen utilizes TFT technology and its colors are saturated, especially the dominating blue. Still, we cannot say the overall image quality is as impressive as what the Samsung Wave S8500 and its Super AMOLED screen delivers. The display remains usable in direct sunlight, which is great news indeed, but we cannot say it´s something breath-taking really. By the way, the screen comes without oleophobic coating, meaning it can get dirty quite easily.
The capacitive screen sports great sensitivity and is not troublesome to use at all. Still, we need to point out that it doesn't support multitouch,
although this is a software restriction that can be removed later on
. There is a small LED indicator above the screen that notifies you of various events – blinks at received messages and glows steadily when you charge the device.
UPDATE
: Sony Ericsson explained that the lack of multitouch is a hardware issue. This means that you won't be able to get multitouch support by installing additional software.
The
hardware buttons
on the front side allow you to quickly access the main menu, go to the home screen or get a step back in menus. All told, they are large enough and feature pleasing travel. There are small light indicators in between that help you locate the buttons in the dark. Due to the huge overall size of the handset, you may find it hard to press these with your thumb when holding the X10 in one hand. We didn't encounter any issues relating to the buttons on either side, i.e. the volume rocker, camera shutter and power on/off keys, but they are relatively rarely used anyway.
The Sony Ericsson Xperia X10 can be charged and connected to a PC via normal microUSB port. It´s located on the top side and is well-hidden under a handy, plastic flap. The 3.5mm jack is right next to it and its presence is probably great news for everyone who dislikes Sony Ericsson earphones.
All told, the Sony Ericsson Xperia X10 is a well made cell phone with great build quality. The plastics it´s made from appears proper and robust. The chrome framing is an enjoyable counterpoint and lends color to the overall design. Those of you with keen interest in the exact impression they make will be happy to find out that the Sony Ericsson Xperia X10 will indeed attract the attention of people around you... Not noticing the X10 is like failing to see Godzilla crunching a snack at table next to you. It´s just that handsets with such enormous displays are still scarcer than chicken teeth. The fact they are not extremely comfortable to use on a daily basis is... another matter. Perhaps this is why the manufacturer has created the Xperia X10 mini and X10 mini pro.
Sony Ericsson Xperia X10 360 Degrees View: