Sony Ericsson PlayStation Phone spotted in Greece?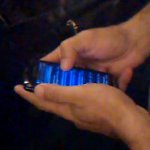 Ah, Greece! The cradle of ancient culture, land of philosophers, gods and...
the Sony Ericsson PlayStation phone
. Or at least its movie debut. The mysterious device was supposedly running
Android 2.3
somewhere in Greece. The video was filmed with a low-res camera (as you can see) and it might turn out to be a
different
Sony Ericsson model altogether. Unfortunately, we cannot see the control pad, which should be hiding underneath if it was indeed the PSP phone.
According to a Greek tech blog, the device is codenamed
Sony Ericsson Z1
and boasts an 8-megapixel camera equipped with LED flash. We should mention that
December 9th is getting closer
and that's when we might see the gaming phone in its full glory. Check out the video and let us know – do you think it is real?
source:
Engadget