Snapdragon chipsets will have Netflix streaming hardwired, demoed on the LG Revolution
2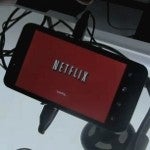 Streaming movies off the Internets is hard enough on your computer - you need decent broadband connection, and good compression algorithms on the originating end.
On a mobile phone the challenges are even greater, but it is such a desired feature, that Qualcomm took a different approach. In the next Snapdragon chipsets we will have Netflix streaming hardwired into the chipset as hardware-accelerated video codecs, which will help immensely with decoding, while your applications processor will stay idle for other, more mundane tasks, thus reducing battery consumption.
The Netflix streaming and output via HDMI port to a big screen TV were demoed at Qualcomm's booth at the Mobile World Congress Expo, and the LG Revolution Verizon LTE phone was used for the test. As far as we overheard from the convo, the Revolution has a single-core 1GHz MSM8655 Snapdragon inside, so it might ship with this feature right out of the box.
Of course, this chipset is combined with Qualcomm's LTE baseband modem, to use Verizon's wireless broadband for the streaming, so you might not see this type of hardwired Netflix streaming on other carriers soon.
You can line up you queue, and get on your merry way streaming your favorite movies on-the-go, or to the TV via a dedicated Netflix streaming app, which is demonstrated in the video below.
via
Phandroid