Samsung's Exynos 8 Octa 8890 chipset now official: 14nm FinFET, 64-bit custom-core powerhouse
77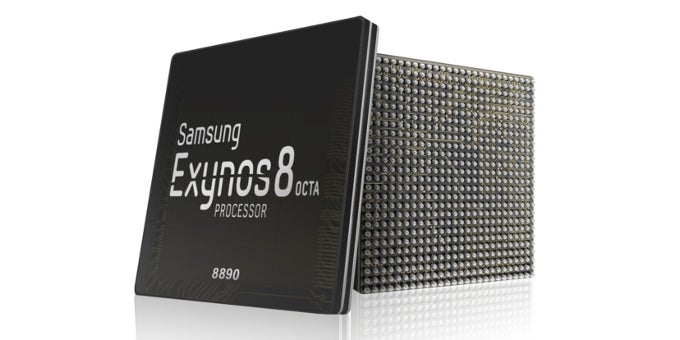 The majority of rumors and we leaks regarding the Samsung Exynos 8 Octa 8890 that hit us during the past few weeks or so made us quite impatient to see if the speculations were true. Given that the Exynos 7 Octa 7420 is a spectacular chip that truly helped the Galaxy S6, S6 edge, and Note 5 be the top dogs they are, we were quite impatient to see how Samsung will continue the development of its chipset line. Well, the time has come, as Samsung officially announced the Exynos 8 Octa 8890 chipset.
Similar to the Exynos 7 Octa 7420, the new chipset is an 64-bit octa-core silicon that is built on a 14nm FinFET manufacturing process (no word whether it's Low Power Eearly or Low Power Plus, though). So far, so good, but what's really interesting about this new chip in particular is that it is the first one to come with custom-made CPU cores, four of them to be exact. Initially known as
Mongoose
or M1, these are based on the 64-bit ARMv8 architecture. The other four cores are Cortex-A53 ones. The two clusters work flawlessly in concert thanks to enhanced big.LITTLE heterogeneous multi-processing.
So, what's the benefit of having four Cortex-A53 cores and four custom ones? It seems that it's a big deal, as Samsung claims the Exynos 8 Octa 8890 boasts 30% better performance than the Exynos 7 Octa 7420, while being 10% more power-efficient at the same time. That seems like a "win-win" outcome, no matter how you view it.
Samsung's first chipset with custom CPU cores on board
Apart from the custom cores, the Exynos 8 Octa 8890 is also Samsung's first high-end one-chip silicon that combines the processor and the modem in a single package. True, we've seen such Samsung-made chipset in the past, but these were mostly mid-range ones. Back on the Exynos 8890: the new powerhouse comes with an LTE Rel.12 Cat.12/13 modem, which is unlocking the possibility for blazing-fast bandwidth. How fast exactly? Samsung says that download speed of up to 600Mbps and upload speed of up to 150Mbps are possible with its new in-house chip. Impressive, right?
As far as graphics are concerned, the Exynos 8890 doesn't bring a knife to a gunfight, either. With a top-end ARM Mali-T880 MP12 GPU on board, the chipset will most likely fare extremely well in the graphics-crunching department.
Samsung says that the Exynos 8 Octa 8890 is about to enter mass production in late 2015, but if
some of the recent rumors
are to be believed, it has already started the production of its new high-end silicon. We expect to see the new Exynos in
half of all Galaxy S7 units
Samsung churns out next year, but we shouldn't rule out the possibility that it could also end up in the Galaxy Note 6 later in 2016. Sure, Samsung can put the chip in other high-end smartphones in-between, too.