Snapdragon 800 phone with 4GB RAM for half the price of Samsung Galaxy S4 might come by end of year
52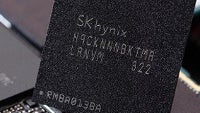 Just yesterday,
LG unveiled the G2
, the first Snapdragon 800 phone launching globally, but today we are hearing that Chinese phone makers are preparing a device that might be even more exciting. A Snapdragon 800 phone with the unprecedented 4GB of RAM and coming at half the price of the Samsung Galaxy S4 has leaked out in China and it might be manufactured by Shenzhou company Hasee.
The mysterious device looks like it's taken straight out of a nerd's fairy tale book. The
unprecedented 4 gigs of RAM
is the maximum Android can go to right now. The 32-bit platform simply cannot support more than that, and China might be stretching the limits. Is this even possible, though? Two months ago
SK Hynix announced its 8Gb LPDDR3 chip
and it's possible to stack four of these together to get the whopping 4GB of RAM.
So yes, it is possible, the real question is
how can the mysterious Hasee phone be that affordable?
The rumored price is around 1799 yuan or $295 off contract. In comparison, the Galaxy S4 costs around $600 off contract and the Apple iPhone 5 sells for around $650.
The rest of the specs include 16GB and 32GB internal storage versions, a
13-megapixel rear camera
and 5-megapixel front shooter and Adreno 330 graphics. All of that runs on Android 4.3 Jelly Bean.
The only slightly disturbing thing is the weight of the supposed upcoming Hasee phone coming at the
weighty 195 grams
(6.9 ounces). In exchange, you get a 2500mAh battery. Take a look at the spec sheet right below, exciting isn't it?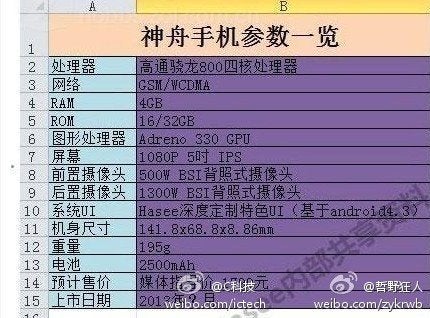 source:
C Tech