SlingPlayer Mobile for BlackBerry leaves beta to become version 1.0
4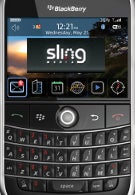 Since December, owners of certain BlackBerry models have been using a beta version of SlingPlayer Mobile. Now, the software that allows them to watch and control their home T.V. and DVR from their phone, has gone out of beta and is now version 1.0. The timing of this move is quite interesting since earlier this week we
reported
that RIM was expected to announce an application for certain of their handsets that would send full length television programs to a 'Berry in the background via Wi-Fi. The SlingPlayer Mobile will work on 3G or Wi-Fi with AT&T's BlackBerry Bold, but will only work on Wi-Fi with the remaining RIM devices that support the service. Those models are the BlackBerry Curve 8900 from T-Mobile, the BlackBerry Pearl Flip 8220 from the same carrier, the BlackBerry Pearl 8120 from both T-Mobile and AT&T, the BlackBerry Curve 8320 again from both T-Mobile and AT&T, the BlackBerry 8820 from Ma Bell and finally, the push-to-talk BlackBerry Curve 8350i from SprintNextel. Conspicuous by its absence is Verizon's BlackBerry Storm 9530 which also isn't expected to support RIM's television app either.
For SlingPlayer to work, you must have A PC or MAC with SlingPlayer installed for setting up internet viewing on your Slingbox with a broadband upstream connection of at least 256K. Click on the source link to see the minimum and optimal OS required for each supported BlackBerry device. The app has a one time charge of $29.99 and there is a 30 day free trial, and can be downloaded at mobile.slingplayer.com.
Furthermore, Sling Media has submitted an iPhone version of the SlingPlayer Mobile to the iPhone App Store. You can sign up for an alert so you can be notified when the app will be available for downloading.
source:
Sling Media (BlackBerry)
,
(iPhone)
via
EngadgetMobile