RIM to offer full length TV shows on certain BlackBerry models?
This article contains unofficial information.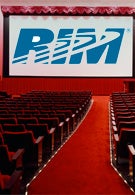 According to NewTeeVee, RIM is expected to announce at the CTIA show a plan to send full-length television episodes directly to BlackBerry handsets. There is one major ironic twist. Because the shows would be transmitted via Wi-Fi, the touchscreen BlackBerry Storm would be excluded from this offering because that unit does not have a Wi-Fi radio. The plan is supposed to offer unlimited service for a monthly subscription fee and once a program is ordered, it is sent in the background to the users' BlackBerry. Apparently, RIM has secured agreements with the major broadcast and cable television networks. RIM has chosen to use Wi-Fi networks to send the programs because they do not want to "clog" the 3G pipelines according to the web site. What is not clear yet is the carrier's involvement in this plan. Pricing and date of availability are also unknown at this time. If this does become reality, we should learn quite a bit more in Las Vegas.
source:
NewTeeVee