Slick Galaxy S7 edge renders build on top of existing Samsung patent for a trapezoid phone design
50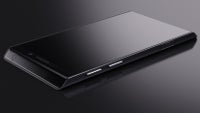 For quite some time now, even amateur designers have been dreaming up smartphone concept designs, but the majority are typically either poorly made, or completely fictitious. The folks over at 3DFuture are neither new to modelling, however, and in this case they've delivered some pretty slick-looking renders based on a
recently unearthed Samsung design patent
. They're calling it the Samsung Galaxy S7 edge, though we obviously have no compelling evidence suggesting that the patent is, indeed, a glimpse into the future.
Said patent is pretty interesting, if only because Samsung designers are obviously toying with the idea of a trapezoid phone — one a lot alike to the
Ubuntu Edge
, which never made it to the market. In any case, what the folks over at the design studio did is take the basic outlines and spirit of the design patent, and then add some substance and color. The results, as you can see, yield an imposing-looking smartphone that looks all kinds of alien and, therefore, cool.
We won't get into the nitty-gritty here, and will refrain from commenting on the seeming impracticality of the proposed design. If this ever becomes a reality, however, we'd be quite curious as to how it translates into everyday life, what with those sharp corners and sub-optimal placing of the selfie cam. In the meantime, however, we're quite enjoying these.