Samsung patents a trapezoid phone, with flexible display sloping over the bottom edge
26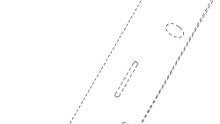 Samsung is on the offensive with its
YOUM brand of flexible AMOLED displays
that use plastic, instead of glass substrates, so that they can curve and bend without breaking, while still displaying whatever you want them to show.
After starting small with the
Note Edge
and its right-side sloping screen, then taking it to the next level with the
Galaxy S6 edge
that has display curved on both sides, and blowing the concept up to the 5.7" screen size of the
S6 edge+
, now Samsung is up to another flexible mischief.
The company has patented a new way to make a phone with curvy AMOLED, this time giving the phone a trapezoid form, and sloping the screen over to the bottom edge, instead of the sides. Curiously enough, the top bezel is also sloping (or it wouldn't be a trapezoid, of course), so who knows what's in store for future Edge-series iterations. Now, where is our
foldable phone
, Samsung?