Skype to add new video call and IM features to iOS and Android; users can now test them on Skype Preview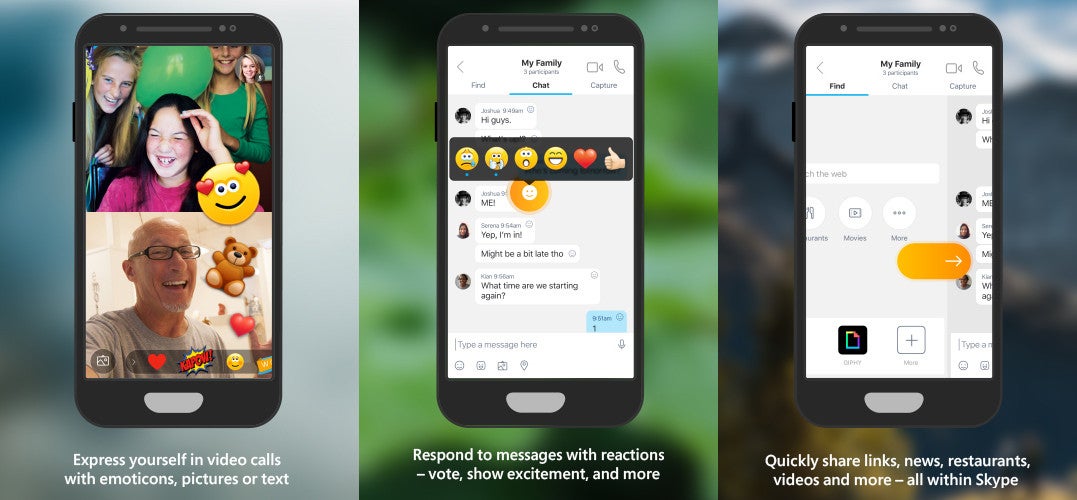 The last few months were a period in which we've seen an overabundance of updates coming to some of the most popular IM apps. Many companies opted to piggyback features off each other in an attempt to entice new users and retain existing ones, thus making the whole IM scene a lot more competitive.
In order to keep up with the rest of the big players, Microsoft has also been rolling out updates to Skype on a regular basis. The latest features are currently in beta, and are aiming to put a bit more emoji pizzazz into your chats and video calls.
First off, there's a new integrated camera perk, which means you can swipe to quickly capture an image on your screen. After that, you can add emojis, annotations and stickers, and then share your moment directly with the rest of the chat. There is also the addition of in-call and messaging reactions. The former lets you add photos, emoticons and text to your video calls in real time, while the latter essentially allows users to respond to each individual text message with likes and reactions (just like the ones found below a Facebook post).
Finally, a new and improved "Find panel" is also included – it serves as a search bar that users can employ to locate and share news, links, sport results and other information on the web, without having to leave the app.
As we mentioned earlier, these new features are currently being tested, but users on iOS and Android can check them out through Skype Preview before they are introduced to the main app. Android users can download Skype Preview via
Google Play
, while iOS users can apply for
Skype Insider
.
source
Skype
via
Engadget