Sketches of the HTC HD7 get leaked
2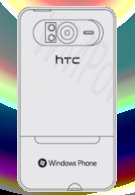 Although it might not be an actual image of the rumored HTC HD7, we can use our imagination to figure out how the HTC HD7 might actually look like in person.
Today, we're presented with some sketches that reveal the distinct outlines of the upcoming Windows Phone 7 powered device. If it is indeed the handset in question, then it definitely has a lot in common with its high-end Android counterpart – the HTC EVO 4G. As you can tell, there are some similarities with the 4.3" behemoth as it reveals a beveled back, dual-LED flash with its camera, and what appears to be an area for a kickstand.
Still, it's hard to infer from the image what is the
exact size of the display
. We'll have to wait to see the smartphone in the flesh to gauge whether or not its design actually kicks things up a notch or whether we're just presented again with an EVO-styled handset.
source:
WMPoweruser