Simple app turns any Android device into a Chromecast receiver
2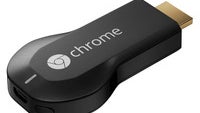 The recently announced
Chromecast
is a neat little gadget that lets you stream media from your phone, tablet, or laptop straight to your TV. And it doesn't even cost much. At $35, Google's HDMI dongle fits any budget. However, there is now a cheaper way of enjoying Chromecast's functionality. All you need is a spare Android device, preferably one that can connect to a TV, and a free app called CheapCast.
CheapCast is a free Android application that acts as a Chromecast emulator.
You just install it on the device that you want to turn into a Chromecast receiver and enable the service. Then all you need to do is to stream your desired content via a compatible application like YouTube or Google's Play Music.
Note that the app is still in beta. It might not work on your device, or it might refuse to start at all. Also, you can't yet cast your Chrome Tabs to it, but hopefully, we'll see the feature added in a future release.