Google Chromecast Review
10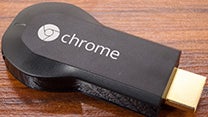 Introduction
Those that sing the death of traditional media may be a bit premature, but there is no doubt that content delivery is changing. Non-traditional players are creating original content, most notably Netflix which has two of this year's most talked about shows in House of Cards and Arrested Development. Microsoft is making a strong play to take over your family room with the Xbox One, a device that goes well beyond gaming. Roku might not yet be a household name, but their diminutive, affordable box is making it into more and more homes. Google has long seen this shift coming, and tried to get into the game with Google TV back in 2010, then again with last year's
Nexus Q
. While those avenues has been all but a failure, Google is back with a newer, simpler and cheaper way to get content from your small screens to your big one:
Chromecast
. This tiny HDMI dongle will run you just $35, and promises a painless way to shift your favorite content from your phone, tablet or laptop right to your TV. The price is almost too good to be true, and the promises are almost too simple...can Chromecast deliver?
Hardware
There isn't much to the Chromecast dongle. On one end of the stick is a gold HDMI connector, and on the other is a microUSB port for the power adapter, a reset button (hold for 25 seconds) and an LED indicator light. The Chromecast does need to be powered and even though HDMI 1.4 ports and ports supporting MHL are able to supply power, neither provide enough juice to feed the Chromecast. This means officially you'll need the microUSB connector which is yet another wire behind your TV. If you're lucky your TV has a USB port to plug into, otherwise you'll need another free outlet as well.
Recommended Stories