'Selfiegate' subject of parody on SNL
5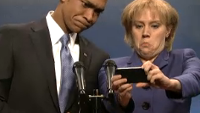 Last week, when we pointed out that a
BlackBerry Z10
was
used to take a Heads-of-State selfie of President Barack Obama and Denmark's Prime Minister Helle Thorning-Schmidt
at a memorial for Nelson Mandela, we had no idea what a big story it would turn out to be. Our focus was on the phone used to take the picture, which was the aforementioned BlackBerry model. Sure, we did point out that Michelle Obama looked a little peeved, but hey, her husband was apparently flirting with the Prime Minister of another country in front of a global audience.
Leave it to the writers at Saturday Night Live to turn this into a funny skit. Not only was the selfie with Thorning-Schmidt brought up, but so was the now infamous false sign language interpreter who made incoherent gestures during the event. We bet though, that he might have been able to translate the First Lady's comments to the President when both were finally alone following the memorial. After all, that would have required the use of just one finger.
The skit ends up with German Chancellor Angela Merkel (portrayed by SNL's Kate McKinnon) demanding a selfie from the President, too. We won't spill the beans on the rest of the skit, which you can view by clicking on the video below. And in case you're keeping score, Jay Pharoah played the president while of course, Kenan Thompson was the interpreter.
source:
SNL
via
CNET