Second-gen Nexus 7 "not far," could have the most detailed screen on a tablet ever
23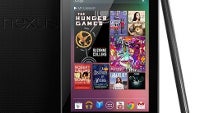 The launch of the second generation Nexus 7 tablet is not in the distant future and it could have the most detailed screen to ever appear on a tablet. Japan Display and AU Optronics are expected to make the impressive
1920 x 1200-pixel 7-inch screen
and supply it to Quanta, the company that will put it together.
"As far as I know, JDI and AUO didn't start to supply this panel to Quanta yet. However, they are saying it will start from June and July,"
IHS lead TV, Tablet, Monitor and Notebooks display researcher Ricky Park said.
The original Nexus 7 came with a 1280 x 800 pixel display with a pixel density of 216 pixels per inch. The new screen could up the ante to a
"Retina"
resolution with
density of 323 pixels per inch
.
Just yesterday, we heard rumors from Taiwan that the
Nexus 7 is set to launch next month
with prices starting from $229. Now, IHS does not confirm that exactly, but does say that the "launch...of the Nexus 7 II" is "not far" in the future.
Google started selling its first Nexus 7 in July of last year. Later on, the rivalry in compact tablets got fierce with Apple introducing an iPad mini and Amazon bringing its Kindle Fire HD. The second-gen Apple iPad mini, though, is now expected to come in Q3, and some say it could be delayed to Q4.
source:
CNET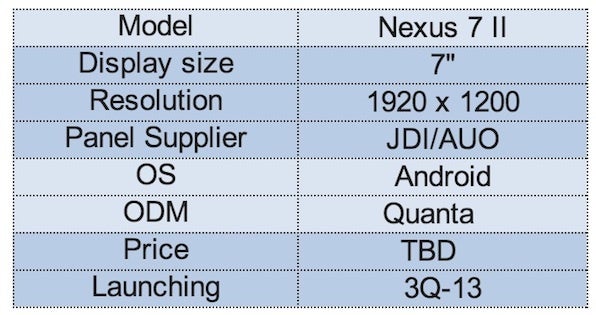 Recommended Stories