Samsung's Galaxy Unpacked 2023 Event: What to expect?
2
We may earn a commission if you make a purchase from the links on this page.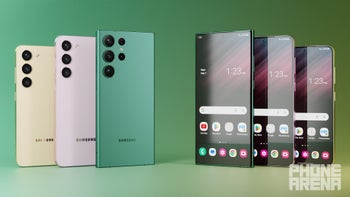 When it comes to Android devices there is arguably no other manufacturer that carries the same amount of clout as
Samsung
. The Korean tech giant has dominated the market ever since the inception of modern smartphones as we know them, and for the longest of times, the Galaxy S series has sought to embody the best of what Samsung has to offer.
This is why
Galaxy Unpacked 2023
, Samsung's first major event for 2023, is such a big deal. It will serve as the venue where the company will present its "new premium Galaxy innovation" as Samsung itself puts in, in its official Samsung Newsroom
post
.
With a teaser like that, relatively little is left to the imagination. However, if suspense is not your cup of tea, and you want to know everything there is to know about Galaxy Unpacked 2023, keep on reading. In the following paragraphs, we will tell what announcements you can expect, what devices you should not hold your breath for, and more. So let's get right to it.
Galaxy Unpacked 2023: What to expect?
First and foremost, for the uninitiated, Galaxy Unpacked 2023 is an official in-person event held by Samsung, which will take place in San Francisco on
February 1st, 2023
. Nevertheless, people all around the world will be able to watch the event unfold via an online stream on Samsung's official
website
, on the company's
official YouTube channel
and on the
Samsung Newsroom
website.
When we hear the words "premium" and "Galaxy", we have only one thing on our minds - the Galaxy S series. Thus, we are certain that the highlight of Galaxy Unpacked 2023 will undoubtedly be the
Samsung Galaxy S23
lineup. The latter is the Korean Tech Giant's flagship smartphone series for 2023.
The S23 family will consist of no less than 3 devices - the
Galaxy S23
, the
Galaxy S23 Plus
, and the
Galaxy S23 Ultra
. All three of them will be making their debut in early February, but you can already reserve a unit from the links below.
The Galaxy S23 will be powered by a custom version of Qualcomm's Snapdragon 8 Gen 2 chipset. This means that the smartphones will offer top-notch performance, and could likely be the most powerful Android devices on the market at launch.
In addition to the impressive processor, the Galaxy S23 will likely bring a plethora of further updates. This includes improved thermals and battery life, brighter screens and a very impressive camera module on the high-end Galaxy S23 Ultra.
According to most reports, Samsung will not be increasing the starting price of the Galaxy S23 lineup. However, buyers can expect to pay a hefty premium for these flagship devices. Luckily, Samsung is well-known for its generous early-bird offers, so if you act (or buy) quickly you can save a lot of money.
We also expect Samsung to update users on the state of the Galaxy S22 lineup, and to inform us whether it will be discontinued or whether it will continue to be sold alongside its successor. If the latter happens to be the case, a price cut will be inevitable. Lastly, Samsung could also have a couple of software announcements to make, including a potential update of One UI.
Galaxy Unpacked 2023: What
not

to expect?

Beside the Galaxy S23, there is only one other significant device launch - that of the Galaxy Book 3 laptop lineup. The Galaxy Tab S9 lineup is unlikely to make an appearance, and neither is the Samsung

Galaxy Tab Fold

. Both have reportedly been pushed back for late 2023 / early 2024.

Speaking of foldables, we do not expect any announcements related to the Galaxy Z Fold and Galaxy Z Flip, as they typically have a dedicated event of their own. Lastly, new accessories such as smartwatches and/or earbuds are technically possible, but not particularly likely.