Samsung Galaxy Z Flip 4 Review: key advantages
16
We may earn a commission if you make a purchase from the links on this page.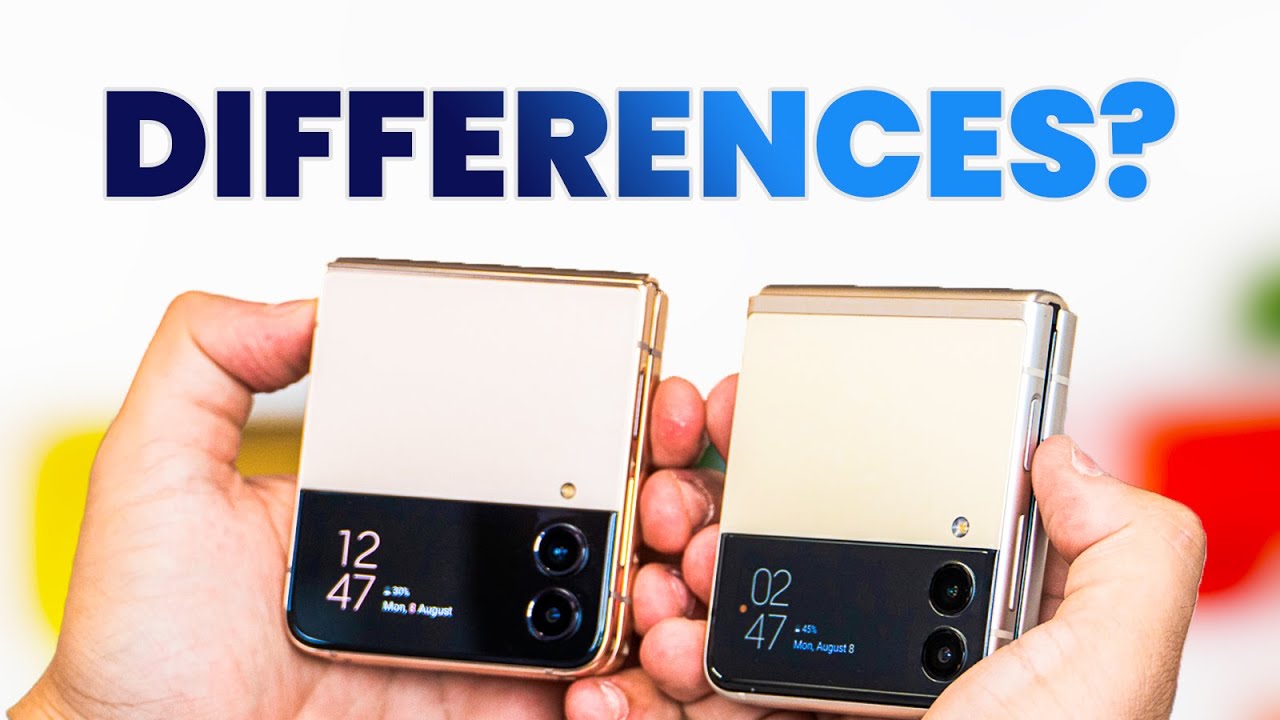 Samsung Galaxy Z Flip 4 Intro
The Galaxy Flip series arrived in 2020 to give us a fresh new take on the clamshell flip phone that used to be popular 15 years before that.
This new style of
foldable phone
was a revolution, Samsung overcame huge engineering challenges to figure out this new form factor.
But we humans get used to new things quickly and now all of this seems... trivial! Ordinary! We want to see even more innovation.
And this is the point in time when the Galaxy Z Flip 4 arrives.
It is every bit as cool as the earlier Flip phones, but it is also oh-so-similar to the preceding model. We were made all the more aware of that when a Samsung representative grabbed our Flip 3 to show us a feature thinking it was actually the Flip 4 they were picking up!
The screen is the same size, the looks are the same, the cameras are almost the same, the whole experience is... kind of similar! But you do get a new and faster chip, a larger battery and a couple of other refinements, so let's see if this is a good reason to buy this phone!
What's new about the device
Longer battery life
Faster processor
Improved camera quality
Slightly more refined design
Same-ish charging speeds
Samsung Galaxy Z Flip 4 Specs
What's new?
Specs
Flip 4
Flip 3
Dimensions
71.9 x 165.2 x 6.9mm (unfolded)
71.9 x 84.9 x 15.9mm - 17.1mm (folded)

72.2 x 166 x 6.9 mm (unfolded)
72.2 x 86.4 x 15.9mm - 17.1mm (folded)
Weight
187g
183g
Screen
6.7" Dynamic AMOLED 2X, 1080 x 2640 pixels, 22:9, 1-120Hz
1.9" Super AMOLED, 260 x 512 pixels (Cover)
Gorilla Glass Victus
6.7" Dynamic AMOLED 2X, 1080 x 2640 pixels, 22:9, 1-120Hz
1.9" Super AMOLED, 260 x 512 pixels (Cover)
Gorilla Glass Victus
Processor
Snapdragon 8+ Gen 1
Snapdragon 888
Software at launch
Android 12 with One UI 4.1.1
4 years of OS upgrades
Android 11
4 years of OS upgrades
RAM and Storage
8/128GB
8/256GB
8/512GB
LPDDR5 RAM, UFS 3.1 storage
no microSD card slot
8/128GB
8/256GB
LPDDR5 RAM, UFS 3.1 storage
no microSD card slot
Rear Cameras
12MP wide, f/1.8, 1.8µm pixel size
12MP ultra-wide, f/2.2

12MP wide, f/1.8, 1.4µm pixel size
12MP ultra-wide, f/2.2

Front Cameras
10MP Selfie cam, f/2.4

10MP Selfie cam, f/2.4
Battery Size
3,700 mAh
3,300 mAh
Charging Speeds
25W wired, 10W wireless
25W wired, 10W wireless
Price
from $1,000
from $1,000
There are two big highlights here. The first one is the more powerful Snapdragon 8+ Gen 1 chip, which is receiving glowing reviews. Unlike the Galaxy S series which comes in two versions with two different processor, you have the same processor on all Z Flip 4 models. Great news! And then you have the second highlight, which is a battery size increase of more than 10%, quite the change!
Samsung Galaxy Z Flip 4 Design & Colors
More elegant and refined, but size and form factor is unchanged
We already told you about the design and colors being so similar to the previous generations that even Samsung representatives would have a hard time recognizing the newer model. Still, you can find some differences if you know where to look.
First, the metallic borders around the glass on the back are thinner on the Flip 4, which makes it look more elegant. And then secondly, the aluminum frame of the phone has a glossy finish on the newer model, while the previous model had a matte finish. At the same time, the glass on the back now has a matte finish on the Flip 4, while you have a glossy one on the Flip 3.
But apart from that there is nothing particularly new about the Flip 4 design. You still have the same tiny 1.9" screen on the front, and opening and closing the phone still feels mostly the same (both phones can stay kind of locked at any angle from about 30-ish to about 120-ish degrees). Buttons are on the right hand side, including the fingerprint scanner which is embedded in the power button.
Unfortunately, it's still very hard to unfold the Flip 4 with one hand! You would need to use both your hands most of the time, and we really hope that Samsung figures out a way to make unfolding this phone with one hand easier.
Like before, you can customize the Flip 4 and mix and match colors with the so called "Bespoke" versions of the phone.
We also appreciate having IPX8 water and dust protection rating on the Z Flip 4, which gives you peace of mind it will survive an occasional drop in water or more extreme weather conditions. Just remember that this phone is NOT protected from dust, and you'd better keep it away from dusty environment. Dust can still get in the hinge and remains one of the big dangers to
foldable phones
.
Samsung Galaxy Z Flip 4 Display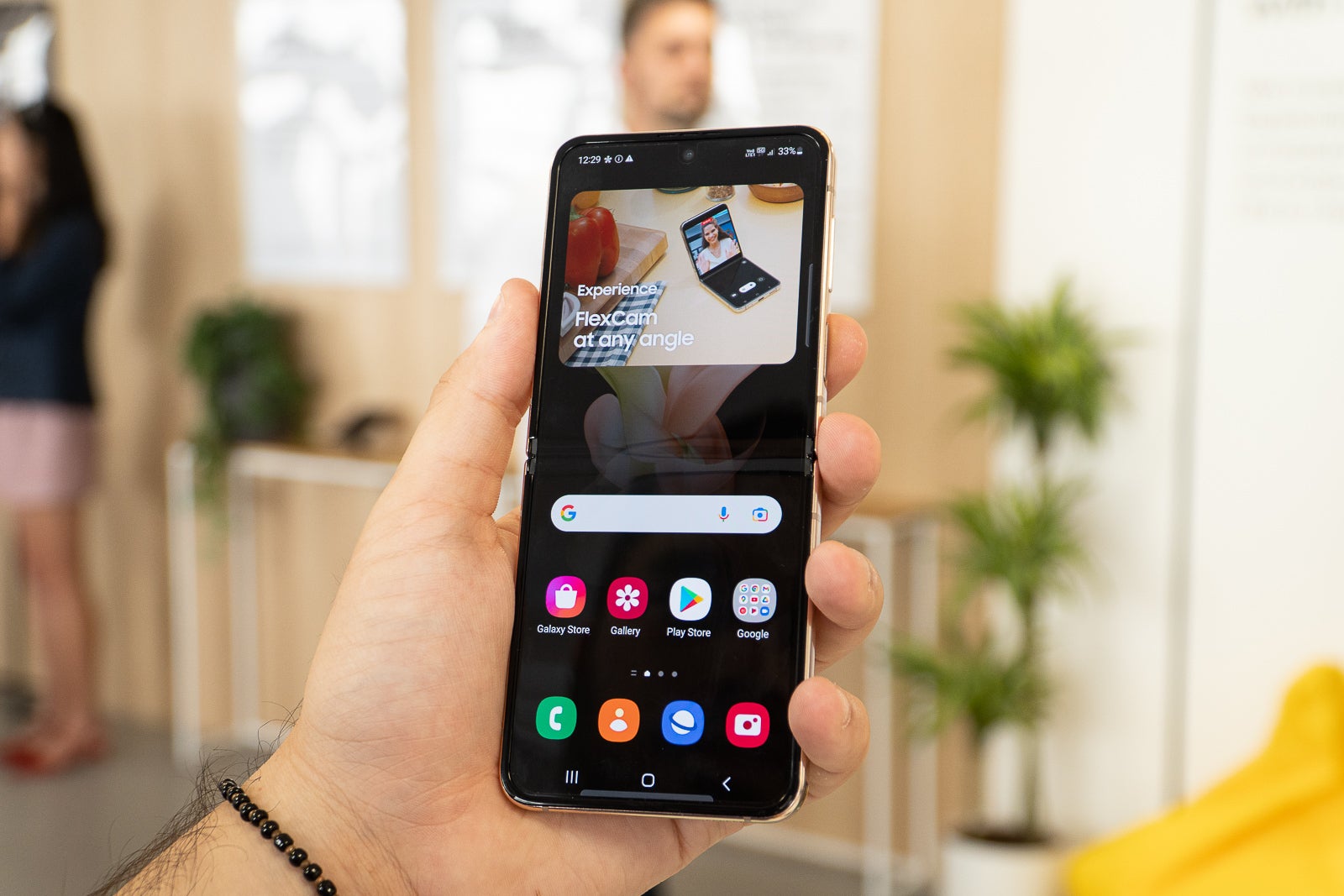 (Image credit - PhoneArena) No big changes to the screens
Once you unfold the Flip 4, you are greeted with a 6.7-inch display, which is the same size and 1080p resolution as the previous model. Remember that the Flip series comes with a 22:9 aspect ratio screen, which is taller and narrower than the proportions of a traditional smartphone, so it's a different experience.
Such a narrow and tall screen may feel a bit weird at first, but can actually be just the perfect thing for movie lovers as movies are often filmed at a similar aspect ratio. If you use split-screen multitasking, the taller screen also feels like a good idea.
We had previously heard rumors about a less noticeable "crease" on the Flip 4, but honestly, we could not see any improvement. The crease is still very much there and at least to our eyes, it looks unchanged.
Apart from that, just judging screen quality and color calibration, this is your typically great Samsung AMOLED panel! Impressive colors, plus a dynamic 1-120Hz refresh rate for buttery smooth scrolling. What's not to like?
Display Measurements:
Our tests show that the Flip 4 comes with an improved screen that can both get brighter for more comfortable use outdoors, or dimmer when you use it at night so it's easier on your eyes. Samsung also says the screen is 45% stronger thanks to changes in its structure and a new and more resilient ultra-thin glass.
The cover screen on the front remains the same tiny size, but it gets a few new widgets and functionalities. Our favorite has got to be the ability to return quick replies to texts directly from it, or use it to access Samsung Wallet.
Samsung Galaxy Z Flip 4 Camera
A great dual camera system, but no telephoto lens
One thing that has not changed on the Flip 4 is that it still uses two cameras on the back (a main and an ultra-wide one), but it has no telephoto zoom lens. On a flagship phone with a flagship price, this does feel like a big compromise, but we guess that is just because of the tiny form factor and the lack of physical space.
Here are the camera specs:
12MP main camera, f/1.8 aperture, OIS
12MP ultra-wide camera, f/2.2 aperture
10MP selfie cam
Samsung is still using a 12MP sensor for the main camera, but it's a bigger size sensor so every individual pixel is nearly 30% larger (you have 1.8µm pixel size on the Flip 4 vs 1.4µm on the Flip 3). Imagine each pixel like a bucket and the larger the bucket, the more light it can gather, so this should help with low light photos.
With the new and more powerful processor on the inside, images will also process faster. We have seen how other
Samsung phone
s where one model is available with two different processors showed different image quality as well, and thankfully there will be none of that on the Flip 4.
During the day, photos out of the two look quite similar, but the Flip 4 has a wider lens and dynamic range seems to have improved as well, but colors do retain that familiar saturated "Samsung look".
In this photo, you can see that the Flip 4 benefits from the wider perspective, and the color of the bricks appear more saturated and lively.
Colors from the ultra-wide camera are now much more vivid coming out of the Flip 4, and you have a lot more blues in the skies. It looks good, even if that is not quite the most true-to-life depiction.
< Flip 4 Portrait Mode
Flip 3 Portrait Mode >
A wider lens and more pleasing softer detail make for a slight but appreciated improvement in portrait mode as well.
Selfies, however, turn out quite similar on both, not much of a difference.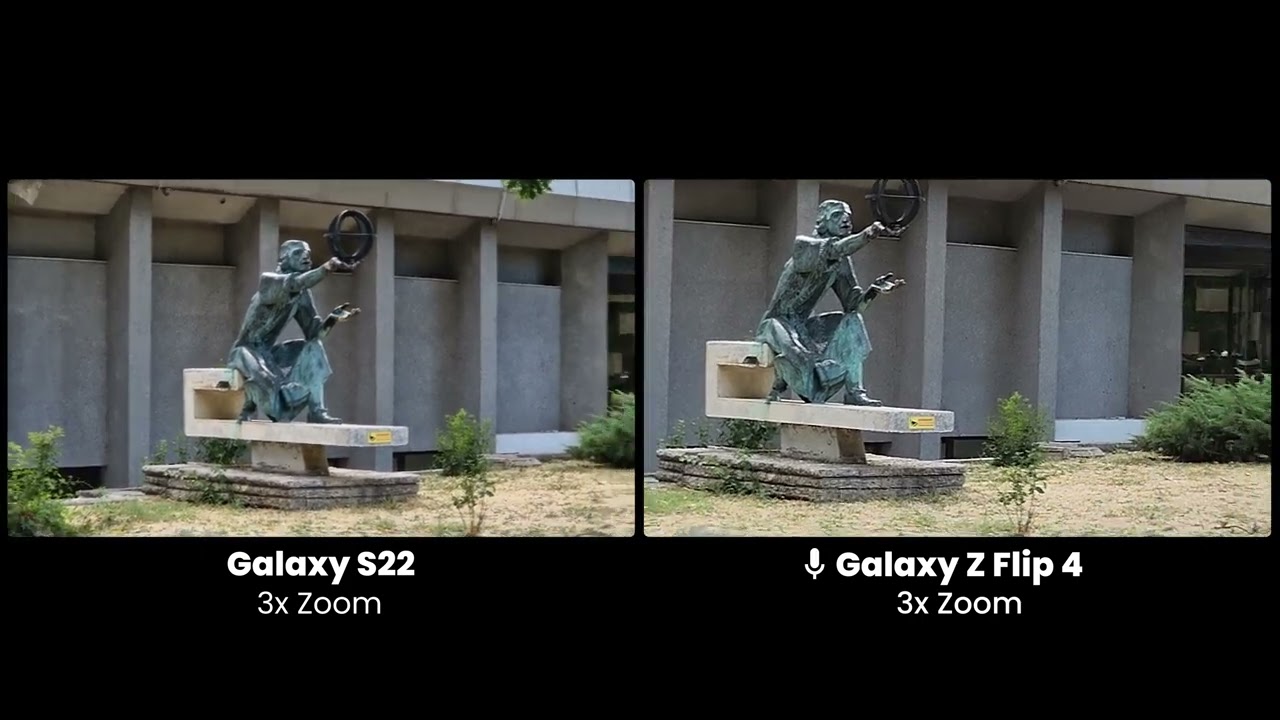 Video quality out of the Flip 4 looks very similar to that of the flagship Galaxy S22 model and in most conditions, you can expect the same flaghsip-grade results with one exception: the zoom camera. Since the Flip lacks a telephoto lens, zooming at 3X or further on it looks way less detailed then the Galaxy S22, which switches to the dedicated 3X lens in those conditions.
Samsung Galaxy Z Flip 4 Performance
The new Snapdragon 8+ Gen 1 chip is fast!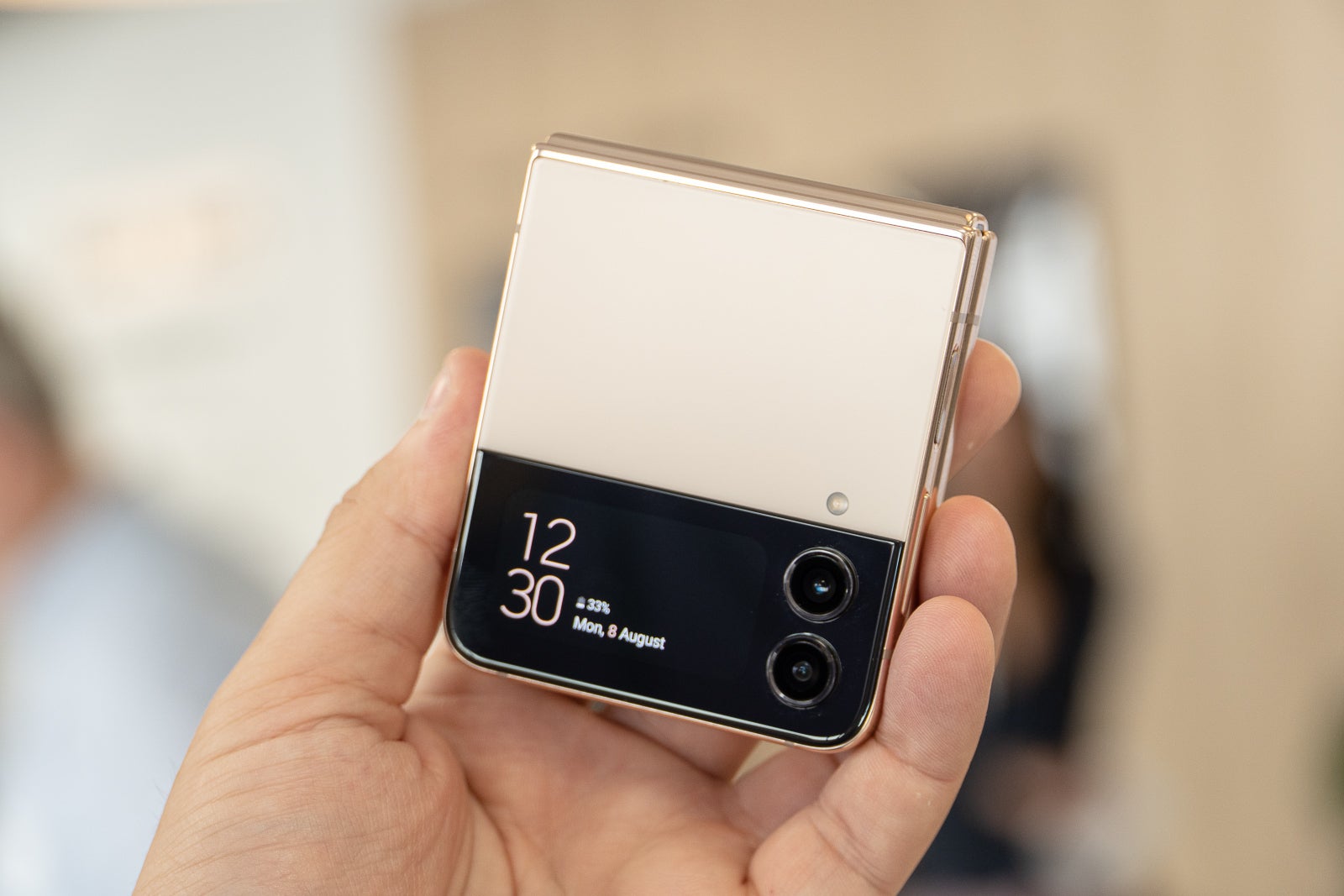 (Image credit - PhoneArena) New processor for faster moves
We already touched upon the Snadpragon 8+ Gen 1 processor inside the Flip 4, but it is indeed a beast of a chip and is receiving universal praise.
And best of all, there is no Exynos version of the Z Flip 4, all models across the globe run on the Snapdragon chip.
Performance Benchmarks:
As you can see above, the Flip 4 has nearly 20% faster CPU performance in the GeekBench test, which is great news.
However, it is still not a great device for gamers. On the 3D Mark test that runs for 20 minutes straight and simulates a game with demanding graphics, the Flip 4 throttled after just 3 or 4 minutes of running the test. Its performance slumped more than 50% after the throttling! This means the sustained gaming performance of the Flip 4 is actually worse than the 2-year-old
Galaxy S20 FE
! This is all due to the compact form factor which makes it harder to deal with the excess heat the processor generates. In comparison, the same chip on the Z Fold 4 throttles much less and actually rebounds to its initial performance after 15 minutes of gaming, a vastly different result.
The Flip 4 comes with 8GB of fast, LPDDR5 RAM on all models and the base model has 128GB of UFS 3.1 storage. You also have a 256GB storage model and a new, 512GB option, which should be enough for even the most demanding users. There is no microSD card slot, though, keep that in mind.
Samsung Galaxy Z Flip 4 Android version
The Flip 4 ships with Android 12 garnished with Samsung's One UI 4.1.1 custom interface.
Most people are very familiar with the Samsung interface, and it does offer quite a few additional features on top of the stock Android one.
There is something else very impressive here too: the Flip 4 comes with a promise for 4 years of major software updates and 5 years of security updates. This is a commitment Samsung has made for most of its higher-end devices, and it is absolutely fantastic compared to most other
Android phone
makers, which only offer three or sometimes even only two years of major Android updates.
Samsung Galaxy Z Flip 4 Battery
Much bigger battery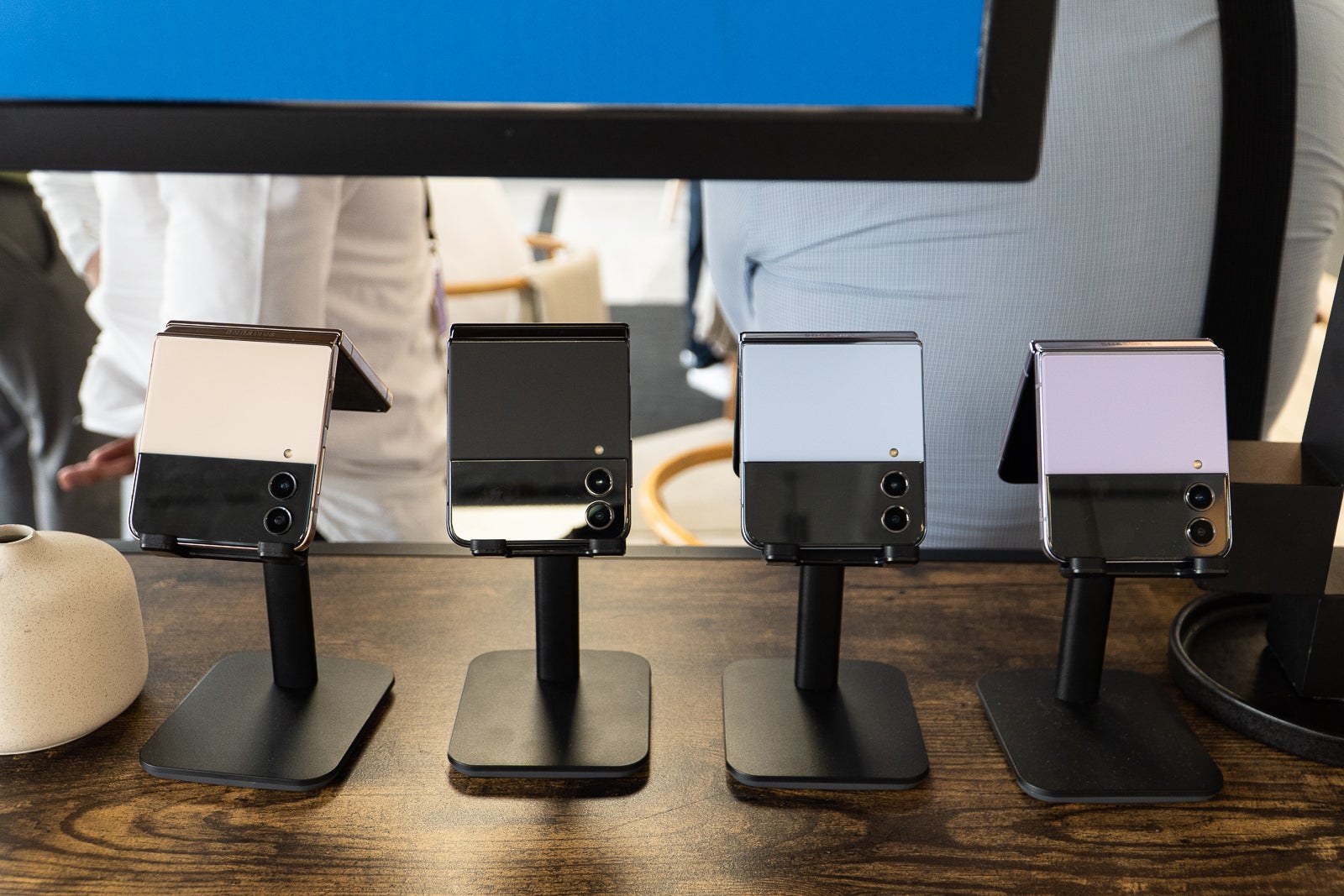 (Image credit - PhoneArena) The biggest upgrade the Flip 4 brings is a larger battery
Despite the mostly unchanged size and form factor, the Flip 4 comes with a much bigger battery. It has a 3,700mAh cell, which is 12% bigger than the 3,300mAh battery in the previous model, the Flip 3.
PhoneArena Battery Test Results:
All the phones that we review go through a number of tests, and to measure battery life we set all phones to the same brightness level to ensure an equal playing field.
####Update:
We have updated the video battery test score for the Flip 4. Previously, we had a score of 9 hours and 45 minutes, a nearly 2-hour improvement in battery life over the previous generation. We have double checked and found an error in this test result, so we are updating the video score of the Flip 4 to 7 hours and 20 minutes, which is very close to the performance of the previous generation. We regret the error.
####
On our lighter web browsing test where we have a selection of webpages scrolling over a Wi-Fi connection, the Flip 4 scored 11 hours and 40 minutes, nearly an hour and a half more than its predecessor. On this test, it was a bit below the Galaxy S22 and
iPhone 13
, but still a good showing.
Samsung Galaxy Z Flip 4 Charging Speeds
The Flip 4 charges a bit faster now, at 25W speeds while the previous model maxed out at 15W. There is no charger included in the box, however.
The Flip 4 also supports wireless charging with no official data about the speed, but we would guess it is like before at 10W. You also have reverse wireless charging support, in case you need to quickly top up a watch or your wireless buds.
Samsung Galaxy Z Flip 4 Audio Quality and Haptics
While the very first Flip launched with a single speaker, the Z Flip 3 and now this Z Flip 4 both use a stereo setup consisting of one bottom firing speaker and another one built in the earpiece.
We don't have specifics on the Z Flip 4 sound quality just yet, but there is room for growth as last year's model was merely okay, and not quite as boomy and rich in sound as the flagship Galaxy S22 series, or the Z Fold series.

And nope, there is no headphone jack here. Samsung doesn't include earbuds in the box either, so for wired audio, you'd need to buy a pair of good sounding USB-C buds or on a USB-C to 3.5mm adapter.
Samsung Galaxy Z Flip 4 Competitors
The good thing about being a pioneer in the foldable space like Samsung, is that you get very little competition if any.
Those looking for a clamshell foldable basically have the upcoming Moto Razr 2022, but not much else really.
Samsung Galaxy Z Flip 4 Summary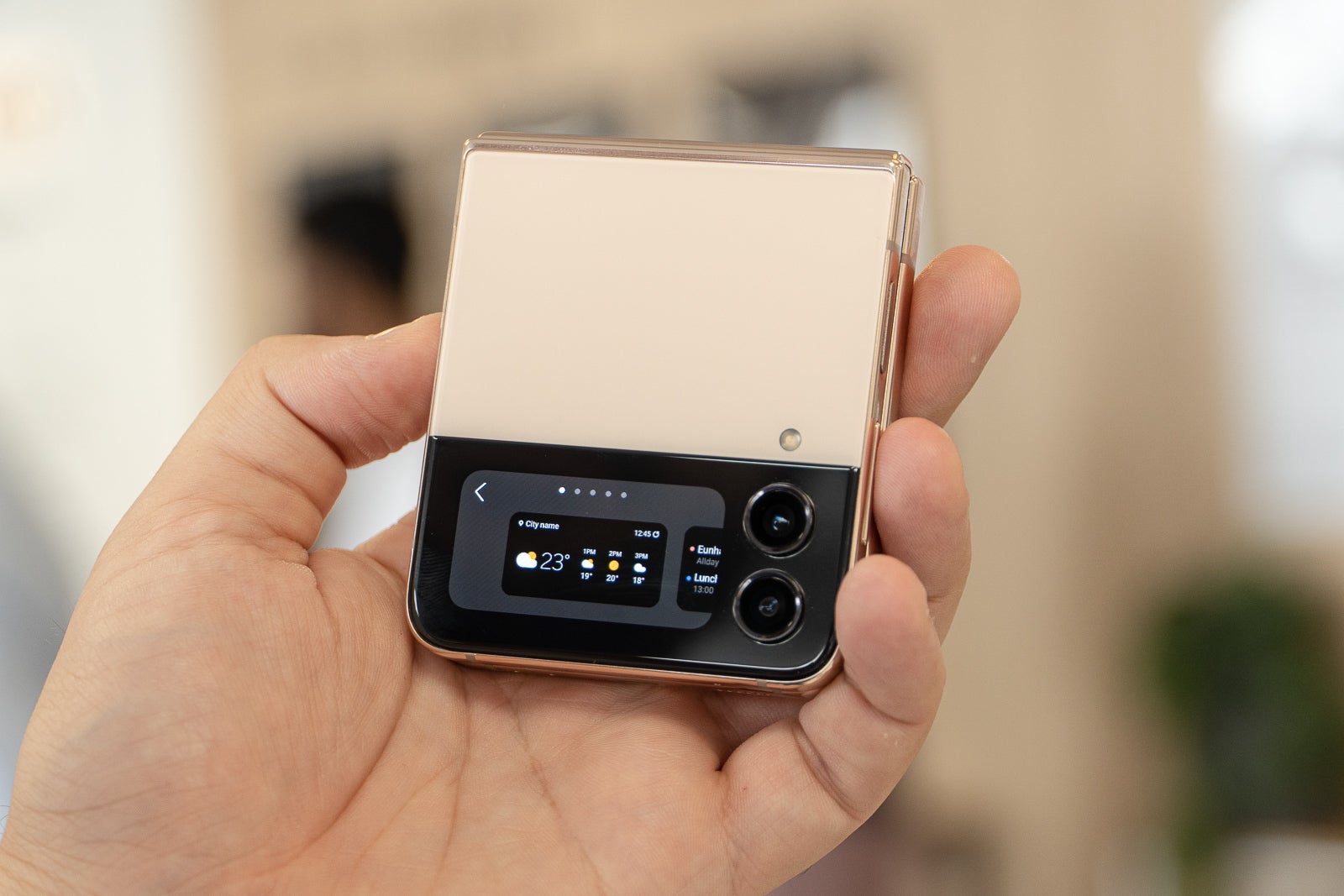 (Image credit - PhoneArena) The best one in a market with still close to zero competition
The Flip 4 builds upon the successful foundation of previous Samsung clamshell foldables.
We can definitely see how it becomes a favorite among those looking for a compact phone and those nostalgic for those older clamshells. Also, we like that the Flip 4 is not prohibitively expensive, so it is not out of reach.
But should you buy it? With no competition in sight, the answer is "yes" for those looking to buy their first foldable, but for those of you who already have the Flip 3 or earlier models, you might want to hold off for some bigger changes.
What is your experience with the Flip 4? Let us know in the comments below!
Recommended Stories