Samsung wants LG to admit to being responsible for OLED technology leak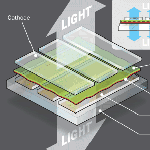 "Our company, which claims about 97 percent of the world's organic light-emitting diode (OLED) screen market, is now on the verge of losing trillions of won from the leak. Executives of LG Display, which lacks OLED technology and related human resources, took the lead in this criminal act in order to overcome their shortcomings as quickly as possible"-Samsung statement
After 11 employees from LG Display were indicted for leaking information on Samsung's OLED technology, Samsung said the leak will cost them
"trillions of wons,"
and put the blame for the leak right in the lap of LG Display's executives. On the other hand, LG Display refutes Samsung's claim and confirms that it is suing its fellow South Korean based tech titan for libel and hopes that the proceedings will show LG's innocence in the matter.
Ironically, LG says that it had no reason to steal Samsung's OLED technology considering that
both firms' OLED displays work differently
. Still, Samsung calls this a "
grave crime
" and wants LG to take responsibility for the leak by admitting their actions. OLED panels, which are thinner and offer more vivid pictures than regular LCD display panels, are in heavy demand. 6 other suspects in the case are current or former Samsung Mobile employees.
source:
YonhapNews
via
SammyHub