Samsung unveils the Galaxy Tab4 slates - a very slight refreshment of the tablet family
32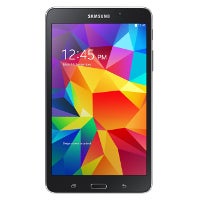 Although we expected Samsung to unveil the 4th generation of its
Galaxy Tab slates later this month
, the South Korean manufacturer surprised us all by announcing the Galaxy Tab4 7.0, the Galaxy Tab4 8.0, and the Galaxy Tab4 10.1 tablets today. The three new devices bring a slight and rather unimpressive refreshment to the Galaxy Tab series.
It seems that the new line of tablets does not deviate from the l
eaked specifications that we shared with you roughly two months ago
. All three Galaxy Tab4 devices are quite similar, as they come with quad-core SoCs, running at 1.2GHz – a nice upgrade in comparison with the dual-core chipsets in the Galaxy Tab 3 slates. The amount of RAM in Samsung's newest trio of tablets is 1.5GB, while the internal storage is no more or less than 16GB. There will be, however, an 8GB version of the Galaxy Tab4 7.0, as well. A microSD slot on board allows users to expand the storage space with up to 64GB, as well.
All three new tablets come with 1280 x 800-
pixel
displays - the same as the ones present in last year's generation of the Galaxy Tab family. The
Samsung Galaxy Tab 3 8.0
and the
Galaxy Tab 3 10.1
both featured the same 1280 x 800-pixel display, but the
Galaxy Tab 3 7.0
came with a 1024 x 600-pixel one on board. The similarities continue in the camera department, too - the identical 3MP rear cameras with fixed focus and 1.3MP front-facing snappers are present in all three new devices.
Speaking of differences, the Galaxy Tab4 10.1 comes with a 10.1-inch display and a 6,800mAh battery, while the Galaxy Tab4 8.0 sports an 8-inch display and a 4,450mAh power bank. The former weighs 17oz (487gr) and the latter tips the scales at 11oz (320gr). The most compact among the trio, the Galaxy Tab4 7.0, comes with a 7.0-inch display. With a weight of 9.7oz (276gr) it is also the lightest. However, Samsung has not provided information about the Galaxy Tab4 7.0's battery capacity.
Software-wise, the 4th iteration of the Galaxy Tab series is powered by Android 4.4 KitKat and a number of Samsung's own apps will come preinstalled on the slates. It will be interesting to see if the
Korean company has toned down its own software
in favor of Google's one, much like it did with its flagship smartphone, the upcoming
Galaxy S5
.
Samsung says that the Galaxy Tab4 7.0, 8.0, and 10.1 will be available from Q2 this year. All of them will be available in both black and white.
Samsung's Galaxy Tab4 tablet series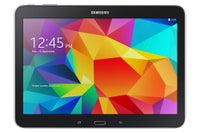 source:
Samsung
Next-generation Galaxy tablet series delivers exceptional multimedia experience for the whole family in a sleek, lightweight design

Inspiring Mobile Freedom in Your Life
• Perfect for all ages, Samsung's next-generation Galaxy Tab4 line offers an exceptional multimedia experience in
a more premium and portable design, making it ideal for viewing or sharing content with friends and family.


Rich Multimedia Experience
• Available in 10.1-inch, 8.0-inch and 7.0-inch screen sizes, the Galaxy Tab4's vivid WXGA display with a 16:10 screen
ratio provides users with a brilliant viewing experience while watching videos, playing games, or reading digital contents.
• With Multi Window functionality, users are able to seamlessly switch between apps and windows, as well as drag and
drop contents with ease.


Fun & Shareable Services*
• The new Galaxy Tab4 line is perfect for the whole family as it comes equipped with a number of fun and shareable
services allowing users to access content and stay connected with friends wherever they are, including:
o Group Play: Share and play music, documents and games with friends in realtime
o Samsung Link: Share and play content across smart devices anytime, anywhere
o WatchON: Watch TV shows and movies on any device, anywhere in your home or on the go.

* Availability of features and functions listed above may be differed by device type or regions.
Not all services will be provided. Please check product specification sheet for each product for details.

Sleek & Portable Designs
• The Galaxy Tab4 line all feature a textured, premium look and feel back cover.
• With a slim design and weights, the Galaxy Tab4 10.1-inch, 8-inch and 7-inch models provide maximum portability
while still allowing users to enjoy beautiful screens.

The new Samsung Galaxy Tab4 line will be offered in a choice of Black or White globally beginning in 2Q, 2014.