Samsung trial evidence reveals Apple patting itself on the back for silent presence at events, studying the competition
22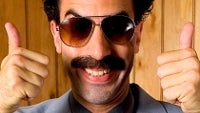 For a company that says it doesn't pay much attention to the competition, do focus groups and the like, Apple certainly showed it does all those things as all human firms, at least from time to time. The revelation comes with court documents that keep leaking from the trial with Samsung, which in turn is
trying to prove Apple does look at what others are doing
.
The latest of docs that show Apple is actually paying a lot of attention to what is going on in an industry it is in, or intends to conquer, is a confidential slideshow reporting the happenings at the 3GSM Congress Trade Show before the iPhone is launched, where Apple didn't have a booth or a presentation.
The slides are called "
iPhone present, but not present...
", and reach a level of detail typical for Cupertino, counting even how many times the words "iPhone, Apple or DRM" were mentioned - "1 in 10 words". Apple's EMEA product marketing team charged with putting together the trade show report said in one of the bullet points: "
All operators giving very positive comments as they do not want to spill their chances of ranging the iPhone
".
And the conclusion is that: "
Although Apple was not present showcasing the iPhone, we were quietly setting the tone and were mentioned in each media, operator and handset vendor discussion
". There are other nuggets in there: "
Meizu is Chinese electronics maker and first company
to closely copy the look and feel of Apple's iPhone
", size comparisons of the iPhone with
Samsung F700
and the
LG Prada
phones, as well as general observations on the trends such as:
Better looking
• The era of the handset as a purely utilitarian tool is definitely over and the devices have become an expression of their owners' fashion sense and personality.
• Some are all beauty, sex appeal and no brains (meaning outstanding features)
• The new LG Prada and Shine, Mororola KRZR K3 and Samsung U300 are perfect examples
Thinner
• While size 0 models are banned from London fashion week, handset vendors are still fighting for the title "Thinnest handset".
• Anorexia is the trend, but still packed with lots of features
• Thin is the trend for all form factors wether that be stick, clamshell, slider, swivel, PDA/smartphone
• Samsung is clear winner
Recommended Stories