Samsung: the Galaxy Note Edge is a "limited edition concept device", only 1 million units to ship in 2014
67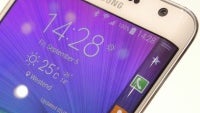 Yesterday, we learned of Samsung's "emergency" plans to release the Galaxy Note 4
earlier than scheduled
, but the bent-display curiosity that is the Galaxy Note Edge wasn't mentioned anywhere. Today, we're filling in more details in the picture. This morning, Samsung held a press-conference in its homeland of South Korea, where it officially announced the Galaxy Note 4 launch schedule.
The phablet's regular version will be released in Korea Friday, September 26, and it will arrive in an additional 140 markets by the end of October. It looks like the official US launch date remains
October 17
.
The Galaxy Note Edge is where things get pretty interesting. Samsung Electronics president D.J. Lee confirmed that the edgy phablet is a
"limited edition concept"
,
"technology-intensive"
device that will see limited shipments and different release dates for each country. It will start selling in South Korea in late October, but other regions might have to wait until next year. Chances are that the Note Edge will be more expensive than the regular phab as well.
A little more than a week ago, Hyundai Securities analysts said that Samsung plans to ship a fairly modest
1 million Galaxy Note Edge units
along with 11 million Galaxy Note 4s in 2014. Samsung's announcement falls in line with this prediction. Previously, the company confirmed that manufacturing the Note Edge is
"expected to be complicated"
, while another Korean analyst added that adapting to the curved screen could become an initial challenge for users.
Do any of you plan to wait it out, or maybe import the Note Edge from abroad? What are your reasons?
Recommended Stories