Samsung Galaxy Note Edge Review
90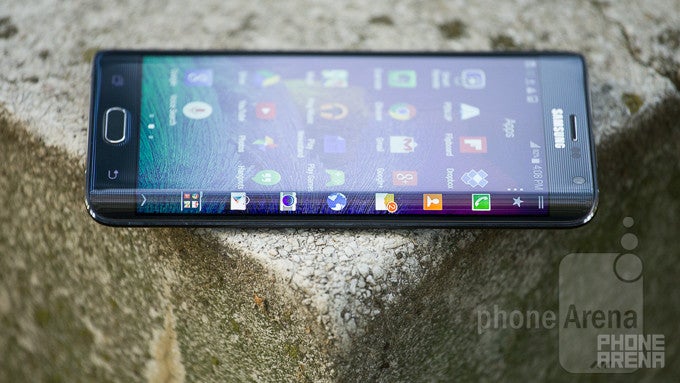 Introduction
The
Samsung Galaxy Note Edge
is a one-of-a-kind, limited-edition device that stands out with a screen that wraps around one of its edges, hence justifying the 'Edge' name. We've seen curved-screen phones, and other trickery in devices, but it's the first time that you get such an 'edge' that acts as a secondary display that you can control separately from the main screen. You can use it for notifications, quick shortcuts to apps, as well as a quick ticker for information that you care about - stocks, weather, sport scores, and so on.
Apart from this important little detail, though, the Note Edge - introduced alongside the
Note 4
- looks very similar to its sibling. It is powered by the same Qualcomm Snapdragon 805 system chip with 3GB of RAM on board, features an identical 16-megapixel camera with optical stabilization, and plentiful 32GB of internal storage. The Note Edge also comes with the signature S Pen stylus that you can use to jot down notes and make more precise selections.
How does this combination of a wrap-around ticker screen, S Pen functionality, and powerful hardware combine in the Edge? And how big of a change does that little edge make to everyday use? Is the much higher price justified? Read on to find out.
In the box:
Wall charger (with fast charge support)
microUSB cable
Headset
S Pen tip ejector tool, reserve S Pen tips
User manual
Design
The Note Edge with its curved rim is a bit of a challenge to handle as you have to be careful to not touch something on the edge screen accidentally.
The curved rim is what defines the appearance of the Galaxy Note Edge: it changes the way you hold the phablet, and the way you use it. One simply cannot overlook the added curve: it requires you to pay extra attention to the way you hold the phone and do it in a specific way in order to avoid accidentally pressing something on the curved rim (and while we got used to it after a while, we imagine this could be an issue for many). Also, with the edge screen being on the right side, the power/lock key is now moved to the top of the phone, making it inconveniently hard to reach. Apart from that, physical keys (also including the volume rocker on the left) are clicky and easy to press. In case you're wondering what happens if you drop the phone on its edge, we should say that there is a metal frame that is slightly more protruded, so it would hit the ground first. This and the fact that Samsung has stressed that it uses a special, strengthened glass for the Note Edge, should be a reassurance.
Save for the bent rim, though, the handset is designed very similar to the Note 4: it has a similar, sturdy metal frame, a faux-leather plastic back cover that you can easily peel off, and a slight camera hump. Up front, you have the large physical home key that houses the fingerprint scanner.
Nestled in the bottom left edge of the Note Edge is the signature S Pen. It's the same one as in the Note 4, and it is now easier to take it out (it was a bit of a struggle to chop it off on the
Note 3
, for instance).
Display
The Note Edge comes with a vivid, 5.6" Quad HD Super AMOLED display with a 160-pixel wide section for the edge. Switch to Basic screen mode, and you have a pleasingly accurate display.
The Samsung Galaxy Note Edge comes with a 5.6-inch Super AMOLED display with a resolution of 1440 x 2560 pixels (Quad HD), with an additional 160-pixel wide section for the edge. Technically, this means the Note Edge's screen is a bit sharper than its sibling Note 4, as pixel density comes in at 525ppi (versus 515ppi on the Note). In reality, both are identically sharp-looking, making even tiny text appear very crisp.
The Note 4 was Samsung's first phone with color-accurate AMOLED screen and the Edge follows in its footsteps. In its Basic mode, the screen is very accurate, though not perfect. Still, we really like what we see. . The color temperature is also pretty natural, just a bit on the cold side at 6800K (above the reference, 6500K value that represents neutral, accurate balance between reds and blues). Gamma, at 2.28, is just slightly above the 2.2 reference spot, more accurate than what we have measured on the Note 4, which adds slight artificial contrast. As other Samsung AMOLEDs, you can select between different screen modes, and the default Adaptive mode still flaunts punchy, but overblown, inaccurate colors, for people who want them.
As with the Note 4, the Note Edge display maximum brightness stands at the very respectable 498 nits. This contributes to very comfortable outdoor viewing and it is actually a little more than the peak brightness of the Note 4. At night, you can also reduce screen brightness all the way down to 1 nit, so that the screen does not tire your eyes with excessive glow.
The Edge: innovation or gimmick?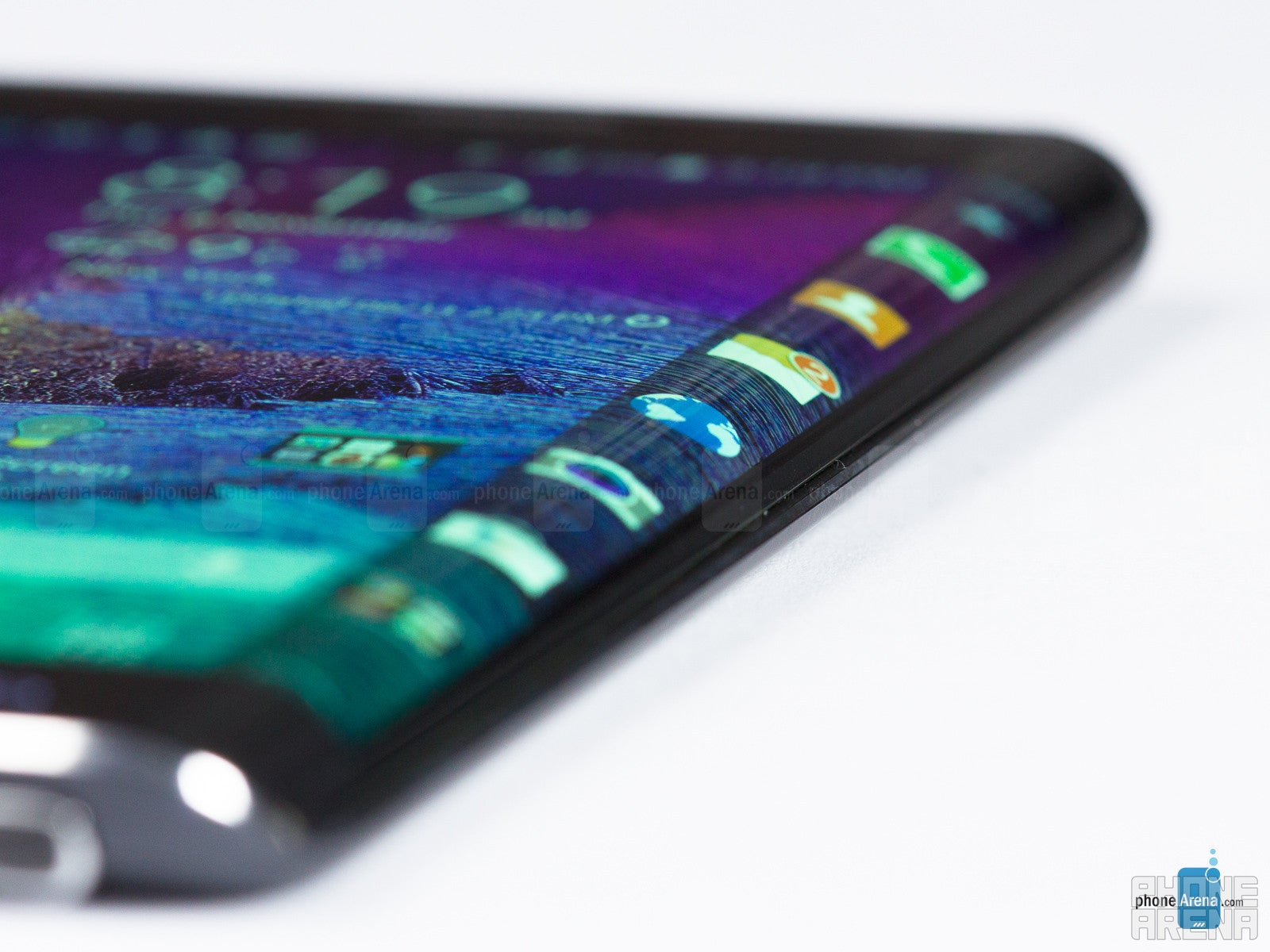 The curved, wrap-around section of the Note Edge screen is tiny in comparison with the large, 5.6-inch main display, but this tiny complementary screen packs a lot of interesting and new functionality.
First, we ought to say that the edge itself can act as an independent, secondary screen that you can wake up without turning on the main, 5.6" display. In order to wake the edge screen when the main one is off, swipe left and then right. This is a quick way to check for missed notifications, as well as for other info you have pinned to the edge, and it also comes with energy-saving consequences.
The rest of the time, when the main screen is on, the edge display acts as a complementary screen that can hold up to 7 panels. You can pin the following things to it:
Quick shortcuts (customizable, you can pick 7 shortcuts to pin to this panel)
Notifications (customizable)
Information from apps like Yahoo Sports, Yahoo Finance, Facebook, Twitter, S Health, etc.
Small games
You can tap on shortcuts to open apps on the main screen, as well as tap on informational panels (like a sports score) to get more info about something in the browser.
Each of these panels comes with two menus: swipe from the top to bring a selection of tools like a ruler, stop clock, countdown timer, flashlight, and sound recorder; and swipe from the bottom to access the settings for the edge display.
In addition to all of this variety, you can also download additional panels from the web to enable things like S Planner, RAM usage information, and so on.
You also have the 'Express me' panel, a special panel that is displayed when you have the lockscreen on, and it basically allows you to put your own text and image as a way to personalize the experience.
The edge screen is clearly a gimmick in the sense that it seems designed with the clear intent to showcase the possible futuristic implementations of AMOLED screens and to attract attention, but since this is not merely a concept device (the Note Edge is a limited-edition phone, but it is available to buy on major carriers), it is also a testing bed for such somewhat crazy ideas. Apart from the mere coolness, though, it's hard to find any substantial improvement in usability that comes with it - having quick shortcuts to apps always at hand is probably the biggest one, as it makes multitasking faster, and quick glances at it to see missed notification and save battery by not turning on the main screen are nice, but using it as a ticker for other apps does not make much sense when you can as well have the full app on the main screen.
Display measurements and quality
Recommended Stories