Samsung revises the Galaxy S4 design with more faux-leather back versions, including Rose Gold white
6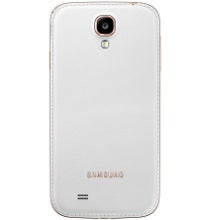 That
Black Edition
of the
Samsung Galaxy S4
with the stitched faux-leather look will be soon joined by a white one, it seems, as Samsung is revising the S4 design language to match the one it uses after the
Note 3
release. This will lead to new color combos, too, Rose Gold White, Rose Gold Black, And Deep Black, with the latter coming at the end of the month.
That's right, faux-leather backs are here to stay, and the new S4 LTE-A editions feature some rose-metal side rimming as well, to go with your rosy camera lens rims. Here's Samsung's presser on the S4 design revision:
Samsung Electronics strengthens the premium lineup adding GALAXY S4 LTE-A 16GB in a palette of new colors. Samsung Electronics announced that it releases GALAXY S4 LTE-A in Rose Gold White and Black via three major mobile carriers on the 6th, consecutively followed by Deep Black colored version at the end of February. GALAXY S4 LTE-A will now have a total of eight new colors.