Samsung announces new 'Black Edition' of the Galaxy S4 and Galaxy S4 mini with faux-leather backs
18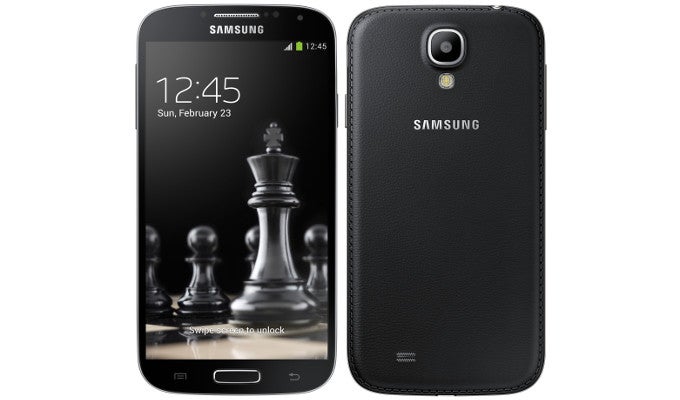 Ever true to tradition, South Korean Samsung has gone ahead and released yet another new version of its existing
Galaxy S4
, but also the smaller
Galaxy S4 mini
. Dubbed 'Black Edition', the very name leave little to the imagination -- these are two onyx-black handsets.
Despite Samsung's insistence of flooding the market with numerous combinations of its products, we're truly not complaining this time around, as the duo looks pretty sleek, and the company has actually thrown in a little surprise. Late adopters of its two handsets can now sample Sammy's new 'big thing' in design -- faux-leather backs. First seen in the
Galaxy Note 3
, these shells are obviously plastic, but they're a rather convincing copy -- there's a good imitation of stitching on the sides, and the texture looks quite believable. That is, until you touch it, of course. We know that the community is mostly split on Samsung's new ornamentation of choice, but it actually feels like an improvement over the fingerprint-happy glossy plastic of old.
But on the inside, there are no surprises. The two devices, put simply, are the exact equivalent to your regular Galaxy S4/Galaxy S4 mini, meaning a 5-inch, 1080p screen, a quad-core Snapdragon 600 processor, and a 13-megapixel camera in the case of the former, and a 4.3-inch, qHD (540x960) screen, a dual-core Snapdragon 400, and an 8-megapixel rear shooter for the latter.
For the time being, it appears that the new editions will only hit Russia next month for $660 (Galaxy S4) and $460 (Galaxy S4 mini). There's no word on international availability, but given Samsung's track-record, we'd expect those to make an entry in other markets sooner rather than later.