Samsung now promotes the Galaxy S6 as a selfie phone
41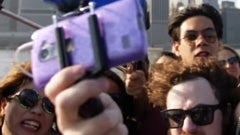 Samsung just released a new promo video that presents one of the features of its Galaxy S6 that perhaps didn't receive as much attention as others: its front-facing camera.
According to Samsung, the Galaxy S6 can "change the way you take a selfie", thanks to the fact that its 5 MP front-facing camera has a 120-degree wide-angle field of view, which means it can fit more people and more of what's around into each and every selfie.
If you own a Galaxy S6 instead of other phones (including Apple's iPhone 6, which briefly appears in the new video), Samsung believes that you no longer have to "carry around sticks like cave people." Of course, the company refers to selfie sticks, which in the last few years have become wildly popular across the globe.
As you probably know, both the regular
Galaxy S6
and the curved
Galaxy S6 edge
feature the same 5 MP front-facing camera, so you can snap wide selfies no matter which of the handsets you're owning.
Of course, what Samsung isn't saying is that there are other smartphones out there with
impressive front-facing cameras
(though it's true that many flagships are still lacking in this department).