Samsung is already working on the Galaxy Note 6's firmware
30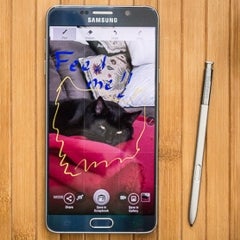 As you most probably know, there is at least one more exciting device to expect from Samsung this year. We are talking, of course, about the large-screened
Galaxy Note 6
, the newest entry in powerusers' phablet line. The Note 6 is, as always, expected to tote hardware slightly more powerful than the "mainstream"
Galaxy S7
, to have the
water- and dust-protection
of its smaller siblings, to arrive in an
Edge
variant again, and last, but most definitely not least, to get an European version (something that
doesn't exist
for the
Note 5
for reasons unknown).
We've heard rumors from a few sources that Samsung will be aiming for a
mid-August launch
of the Galaxy Note 6 (and
alleged Note 6 edge
). The speculated reason is that Sammy doesn't want the upcoming Apple
iPhone 7
to be stealing the Note 6's spotlight. Having the S Pen-toting phablet be announced about a month before the iPhone will help its garner its own hype and momentum.
According to leaksters who spoke to SamMobile — a website that is usually pretty spot-on with its Samsung rumors — the company has now started developing the software for the Note 6. The firmware number is currently N930FXXU0APE1, but that will most definitely change as more builds are developed prior to launch. Traditionally, each Note's software thus far has been a copy of the TouchWiz running on the same generation Galaxy S smartphone, with the addition of features that make use of the S Pen and larger screen. For the Note 6, we've heard that Sammy intends to
borrow from BlackBerry
and add an all-in-one communication interface, a-la BlackBerry Hub. Whether there are any other surprises remains to be seen.
The fact that the firmware is in full development means that Sammy has finalized its hardware decisions and is probably getting ready to start production on the new Note 6 units. This could also mean that we are days away from seeing the first photo leaks of off-the-conveyor units. Fingers crossed for a Note 6 edge!
No images