Samsung intros Galaxy S9 and Galaxy A8 Enterprise Edition models
11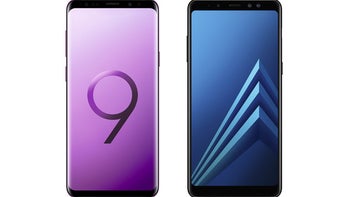 Samsung launched Enterprise Edition versions of the
Galaxy Note 8
and
Galaxy S8
back in October
, but they were initially released in Europe. The former went on sale in the United States
one month later
for the same price as the regular model.
Today, the South Korean handset maker unveiled two new Enterprise Edition models, which will be first available for purchase in Germany:
Samsung Galaxy S9
and
Galaxy A8
. According to Samsung, they will sell for €849 and €499, respectively.
Hardware-wise, there aren't too many differences between the Enterprise Edition and regular
Galaxy S9
and
Galaxy A8
models. The most important is the fact that the Enterprise Edition variants come with dual-SIM support, but similar regular models are available in Asia as well.
What sets them apart from the standard Galaxy S9 and A8 phones is the fact that they come with
Knox Configure
(Dynamic Edition) and Enterprise Firmware Over-the-Air (E-FOTA). The former enables corporate IT managers to remotely configure a massive number of Samsung handsets to work in specific operations and situations, while the latter allows firmware updates to be selectively installed on many devices at the same time through a compatible Mobile Device Management (MDM) system.
Moreover, Samsung offers a two-year manufacturer's warranty for the Galaxy S9 Enterprise Edition, as well as security updates for no less than four years (monthly for the first three years and quarterly for the fourth year). As far as the
Galaxy A8
goes, Samsung offers the same two years of manufacturer's warranty, along with monthly security updates for three years.
Samsung says both Enterprise Edition smartphones will be available for purchase in Germany in April, but we expect at least one of them (the
Galaxy S9
) to arrive in the United States a few months later.