Samsung Galaxy A8 (2018) Review
38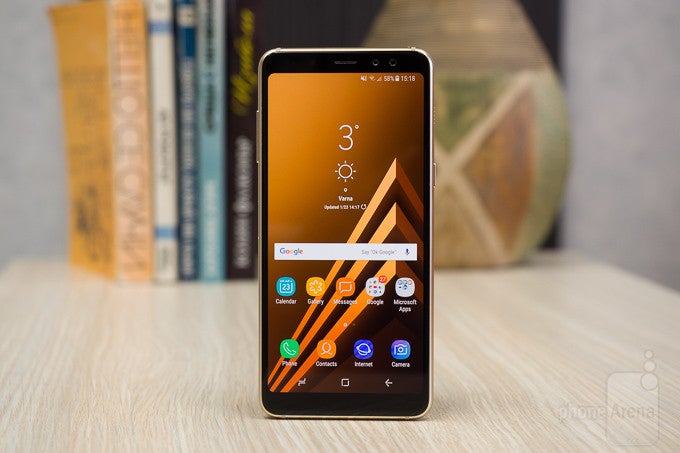 The
Galaxy A8
2018 is Samsung's newest upper mid-range phone, but with its similar glass-and-metal design and styling, we'll forgive you if you mistake it for the flagship Galaxy S8.
The list of similarities includes a tall, edge-to-edge Super AMOLED Infinity Display, a 3,000 mAh battery, and the familiar Samsung Experience interface. But on the inside, the A8 is a mid-ranger: with a different processor and a different camera. Its performance isn't the same either.
I have spent the past few days with a
Galaxy A8 2018
in one pocket and a
Galaxy S8
in the other to find out how good of a phone the A8 really is and how it compares to the flagship S8. Read on to learn more.
In the box:


Samsung Galaxy A8 2018 phone
User manual
Fast Adaptive Charge wall charger
USB-C to standard USB cable
In-ear headphones (white, with 3.5mm jack)
SIM card ejector tool
Design
Premium materials and water-proofing are nice to have, but the phone does not look as futuristic and trend-setting as the flagship S8.
Even though the Galaxy A8 2018 looks similar to the Galaxy S8 from afar, the differences between them are easy to spot when you actually hold the two. The first thing you notice about the A8 is that it has much bigger bezels, ruining the impression of a true edge-to-edge, futuristic design. They don't look nearly as good as on the S8. The A8 also feels much bigger despite the fact that it is just a hair wider and very slightly thicker. What is not as slight is the difference in weight. The Galaxy A8 2018 tips the scales at 6.07 ounces (172 g), while the S8 is much lighter at 5.36 oz (152 g), and you can feel this difference.
The buttons on the sides are made of metal and feel clicky and nice to press, while the loudspeaker is on the right side (just like on the Galaxy A series from last year). On the bottom, you have a USB-C port for charging and a headphone jack.
The A8 also has an IP68 water resistance rating, meaning that it will survive a short dive in water and those summer days by the pool. It's officially rated to withstand up to 30 minutes of immersion in fresh water as deep as 5 feet.
Fingerprint scanner position
It is not a fast fingerprint scanner, though. The fingerprint reader on the Galaxy S8 was a bit slow to react, and this one, too, is not as fast as on other phones like the Google Pixel 5 or OnePlus 5/5T.
Display
A bright and vivid display, but the bigger bezels ruin a lot of its appeal.
The A8 features a 5.6-inch Super AMOLED display that looks great with its lush colors and deep blacks. Samsung calls this an "Infinity Display", the marketing name for its taller and narrower displays with an 18.5:9 aspect ratio and edge-to-edge, almost bezel-less designs. This particular screen, however, is not curved like the one on the S8, and with a flat design, the bezels actually look much, much bigger than on the S8. It definitely ruins a lot of that futuristic look and feel.
In terms of specifications and performance, this display is very good. It reaches a peak brightness level on par with the Galaxy S8, so you can easily see it outdoors, under the bright sunlight, and it drops to the lowest level at night meaning that it is easier on the eyes for nightbirds.
Color representation is not quite as great as on the S8: you have slightly colder whites; colors overall are not perfectly balanced, but not too far off either. As with all Samsung AMOLED displays, you have the choice of different color modes in Settings > Display. The default Adaptive mode produces lively, lush, oversaturated colors, but if you don't like this look you can tone it down to other modes. The basic mode is the one that gets closest to the sRGB standard that you might want to use if you want standard-accurate colors.
You also have the Always-on Display feature on the A8. It takes some additional battery power, so we recommend you set it up carefully. It would be a good idea to let it automatically turn itself off at night. You can do this in Settings easily.
Interface and Functionality
Samsung Experience feels smoother than before.
Every year with Samsung phones, we look at the Samsung Experience user interface and say the same thing: it looks good, but does not perform good enough! The TouchWiz curse carries on generation after generation, and Samsung phones always seem to work with a tiny bit of stutter: not so much as to ruin the experience, but definitely noticeable when you compare the experience to a Google Pixel or a OnePlus.
Galaxy Note 8
, and the A8 2018 also seems better optimized in terms of software. In the daily grind, we noticed that it actually did many things faster than the Galaxy S8, which has a more powerful processor. We're still not at Pixel level of smoothness, but we have an important improvement.
Apart from that, the Galaxy A8 2018 runs on Android 7 Nougat at its core, which is a shame for a phone selling in early 2018. An update to Android 8 Oreo, however, is in the plans and it should arrive in the first quarter of the year. Let's see if Samsung sticks to this schedule.
For all else, Samsung Experience is a familiar user interface. The unmistakable colorful squircle icons, the swipe-up app drawer, the well segmented settings menu, the themes selection and customization options are all here.
Power user features like split-screen multitasking, KNOX security and Secure Folder are also present.
We like the universal search in Samsung's interface that pulls detailed results from all over the system. It is actually very useful.
First-party apps have a polish to them that is among the best from a company outside of Google. The weather app is particularly nice, while others like the browser and mail apps are good enough, but still not on par with the ease of operation and power of syncing with the Google cloud. Samsung has done some important work on its own cloud solution, so you can easily sync photos in the gallery to the Samsung cloud and get them on any Samsung device you own, which is a nice, Google-like bonus feature.
Processor, Performance and Memory
A mid-range chip and only 32GB of on-board storage.
The Galaxy A8 2018 is powered by the Samsung Exynos 7885 chip. This is an upper mid-range chip that is a far cry from the Snapdragon 835 in terms of performance, but it's also better than your typical mid-range chip like the Snapdragon 625. The Exynos 7885 is built on the modern 14nm LPP FinFET manufacturing process, which ensures it does not consume too much power. It consists of 2x powerful Cortex A73 CPU cores running at up to 2.2GHz and 6x efficient Cortex A53 cores running at up to 1.6GHz.
We have already mentioned the good performance you get with everyday tasks, but this chip does not break any benchmarking records. This is not a phone for die-hard gamers and those who will push the limits of a phone performance.
The A8 2018 we have ships with 4GB of RAM and 32GB of storage (there will be other models in different markets), and you have a microSD card slot to expand the on-board space. Just 32 gigs of storage on this phone, however, seem very little as many more affordable devices ship with 64GB. We wish Samsung did not cheap out here, especially when its software already takes up over 10GB out of the box.
Internet and Connectivity
Disclaimer:

The Galaxy A8 2018 is not officially sold in the United States and may not be compatible fully with US 4G LTE bands.
The Galaxy A8 2018 has 4G LTE connectivity with support for a lot of bands, so you can travel most of the world while getting good LTE connection. Here is the full list of supported bands:
FDD LTE Bands: 1, 2, 3, 4, 5, 7, 8, 12, 13, 17, 18, 19, 20, 26, 28, 66
TDD LTE Bands: 38, 40, 41
In simple terms, these bands will cover practically all European carriers and many international ones. Check with your carrier to see if the A8 is fully LTE compatible.
The A8 2018 is a DUOS phone and it features true Dual SIM card support, meaning that you can use two SIM cards AND a microSD card at the same time (instead of the popular hybrid slot that you get these days).
Other connectivity options here include GPS, dual-channel Wi-Fi and Bluetooth 5.0, as well as support for NFC and Samsung Pay.
Camera
A far cry from the fantastic Galaxy S8 camera.
The Galaxy A8 2018 looks similar to the Galaxy S8 and costs just slightly less, but does it have the same fantastic camera as the flagship phone?
The short answer is "no, it doesn't". But we first have to start with the specs: the A8 features a 16-megapixel rear camera (no dual cameras on the back) with optical stabilization (OIS) and an f/1.7 lens, while on the front, there is a dual camera system consisting of a 16-megapixel and 8-megapixel that can blur the background on selfies for a cool, DSLR-like portrait effect.
The camera app is the familiar Samsung one. You can quickly launch it by double clicking the home button. You can swipe up and down on the viewfinder to switch between the front and rear cameras, while swiping left brings up filters and swiping right reveals shooting modes (you have a Pro mode with manual settings, Panorama, Hyperlapse, Night and Food modes, and you can download more). You can easily zoom in and out by dragging the white shutter button up and down, which is neat. The red button below the shutter instantly starts recording video, but the video is slightly cropped and there is no way to preview the composition in video.
Image Quality
How do photos actually turn out? When you have plenty of light, the difference between the new A8 2018 and the Galaxy S8 is not that huge, but it is still noticeable.
It boils down to the dynamic range and overall brightness and balance of colors in photos. The A8 slightly overexposes the highlights, while the S8 consistently shoots slightly underexposed images. There is no one right approach, but we did notice that the A8 cannot capture the full range of a dynamic scene and burns the highlights, while the S8 retains the dynamics better:
If we look closer into details, we notice quite a bit of artificial oversharpening halos on the A8, while the Galaxy S8 is sharp, but without such glaring artifacts. The A8 also shoots slightly colder tones, with whites that appear pure, while the S8 goes for slightly warmer color and a bit yellow-to-greenish whites. Overall, as we've said, the two do not differ hugely in daylight.
Take a look at some photos between the two to see it all for yourselves:
Update

: You can now read our Galaxy A80 review!