Samsung inks an OLED licensing deal with Universal Display
3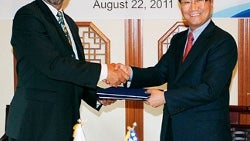 Samsung Mobile Display (SMD), the dominant OLED maker and part of Samsung Group, has been the pioneer of AMOLED displays on smartphones, but being ahead in the mobile display race came with the danger of paying huge sums for patents owned by US-based Universal Display (UDC), which holds over 1,000 patents in the area.
Samsung however has now solved that problem after
inking an OLED licensing deal
for an undisclosed amount that will
run through 2017
and grant the Korean giant the much needed patent backbone in phosphorescent materials. OLED displays are expected to replace LCD ones as they're both thinner and more responsive, and this will also allow Samsung to faster make that move.
"With the technology support from UDC, SMD will develop advanced and quality-improved OLED products further, and it's also been expected for a cost-saving thanks to the deal,"
senior spokesman for Samsung's Mobile Display unit Kim Ho-jeong said. This will reportedly allow Samsung to sell devices without paying royalties.
Samsung's Galaxy S series sport AMOLED displays, but the road to mass market for the technology was initially bumpy due to higher cost of OLED screens and not enough production capacity.
At the same time, though, UDC admitted that its patents are being questioned globally as most recently they've been invalidated in Japan and challenged in Korea, but that was reportedly an inevitable "part of the game." The company's shares surged some 27% pre-trade after the announcement.
source:
Korea Times