Samsung announces another Mini – the Level Box Mini
6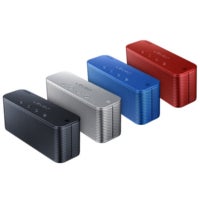 Samsung has announced a new addition to its Level series and it's called Samsung Level Box Mini. That's right, Sammy has decided to give us a more portable variant of its Bluetooth speaker, which was kind of supposed to be a portable solution in itself, no?
The new Box features a 55mm stereo speaker – only one millimeter smaller than the one in the original Level Box. The Mini's dimensions are 6.14 x 2.6 x 1.97 inches (156 x 66 x 50 mm), which, compared to its bigger sibling measuring at 6.47 x 2.45 x 2.72 inches (164.3x62.3x69.2 mm), make it noticeably shorter and a bit less wide, but expand its depth ever so slightly. The weight of the device is dropped to 389g – compared to the original's 600g, it would make a noticeable difference, especially when you combine the Box Mini with a bunch of chargers and other electronics you might take on your trip / hike / any-other-event-you-would-carry-a-bluetooth-speaker-for.
Samsung's Level Box Mini comes in 4 different colors – black, silver, blue, red – and is wrapped neatly in metal (*cough* unlike 99% of its phones). It comes with support for the Level App, which provides remote volume control, text-to-speech, S Voice, and Sammy's SoundAlive technology, which is said to automatically adjust the sound quality to produce the best results possible. Seems such automatic software may become a thing, with Harman Kardon's Clari-Fi
picking up pace in the mobile market as well
, even though tinkering with the users' tracks usually creates controversy among audiophiles and critics. Let's hope the manufacturers acknowledge this fact and always implement the software with an off-switch.
Anyway, enough going off on tangents. The Level Box Mini will have a 1,600 mAh battery, which Samsung says will last for 25 hours of music play. That's pretty impressive, considering that the Level Box is said to last up to 15 hours (our test gave us 12 hours of mixed usage). There is still no word on pricing, but we assume that the new, smaller Box will also come with a smaller price tag. If so – here's hoping that there will not be a huge compromise in sound quality.
source:
Samsung
via
SamMobile