HTC One M8 Harman Kardon Edition hands-on
25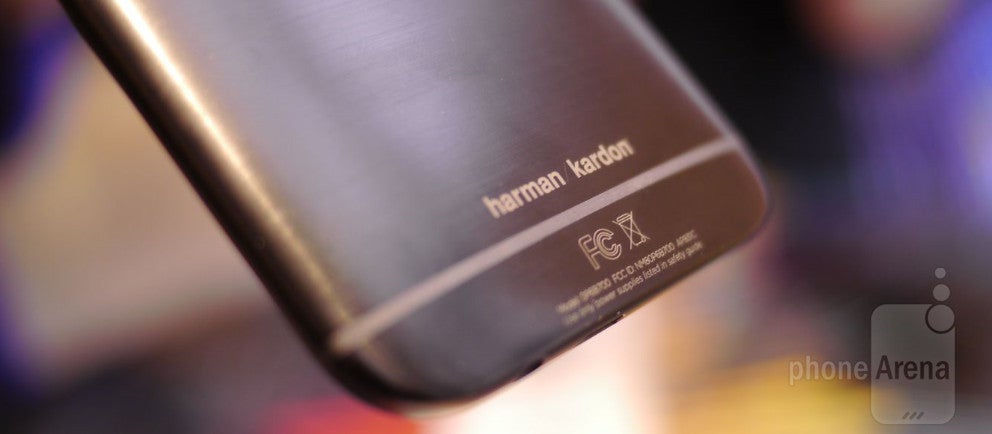 Ah, remember the days of exclusives? AT&T once claimed the iPhone, Verizon armed itself with DROID, T-Mobile started a relationship with the myTouch, and Sprint evolved with the EVO. The days of exclusives are gone, evident by how phone manufacturers are now given the authority on what's given to the carriers. The HTC One M8 has been making a lot of noise since its launch, but interestingly enough, Sprint is claiming a special edition of the beloved phone – the HTC One M8 Harman Kardon Edition, so you can say it's sort of an exclusive.
Design
Grazing over the HTC One M8 Harman Kardon Edition, the only different thing separating this new model over the one we all know and love by now, is its two-toned paint job and the Harman Kardon name plastered in the rear. Aesthetically, it employs the same unibody aluminum construction we're already familiar with, so exudes a sturdy build quality. Looking at it from the front, it looks exactly like the amber gold version of the handset, but in the rear, it's rocking a dark gunmetal finish. Honestly, the combination looks rather tacky – it would've better if the finish were uniform.
Display
There's nothing different here with the Harman Kardon Edition, as this newer model is sporting the same 5-inch 1080p Super LCD-3 display. Obviously, it's detailed, sharp, and punchy with its color reproduction – delivering a pleasant glow as we feast our eyes over it. Did we really expect anything different with this one? Not really.
Interface
True to fashion, the HTC One M8 Harman Kardon Edition is running the beloved HTC Sense 6 UI. Again, there aren't any major customizations with the experience here, but it's worth noting that Sprint's presence is highlighted throughout the interface thanks to its preloaded wallpapers and some Sprint-oriented widgets. Beyond that, things like HTC BlinkFeed and those Motion Launch gestures, are all in full form with this one.
Processor and memory
Powered by Qualcomm's latest chipset, a quad-core 2.3GHz Snapdragon 801 SoC, it delivers the oomph and speed to give everything we throw at the handset that fine level of finesse and responsiveness. It's quick, very quick indeed, so you can expect it to handle even some of the most processor intensive things without a whole lot of degradation to its performance.
Camera
Love it or hate it, the same Duo Camera system is in place with this particular edition. In addition to its primary 4-megapixel '
ultrapixel
' camera, it's complemented by a secondary rear camera that's used to gather depth information. Essentially, the second camera helps to cast that cool blurring or '
bokeh
' effect to shots. Sorry people, it's more of the same here with this new edition of the HTC One M8!
Harman Kardon AE-S headphones
Included with the purchase of the phone is a pair of Harman Kardon AE-S headphones, which we're told to have a retail value of $149. The number alone is up there, but we wouldn't necessarily think that these pair are actually worth that much – mainly due to its less than pleasing looks. Far from the modern or colorful design styles from other headphones, this pair doesn't do enough to spark our interest. First and foremost, they're not tangle-free wires, causing it to jumble up into a mess after spending a short time in our pocket. Secondly, the outer portion of the ear buds mimic the look of jewelry, but feeling them tells us that they're nothing more than plastic. Despite the dated looks, it's the audio quality that's the center of attention here. Unfortunately, we didn't get the chance to hear it in action.
Harman's Clari-Fi feature
One unique thing that separates this model from the normal HTC One M8 is Harman's Clari-Fi feature. We're told it's not hardware related, like some sort of new amplifier, but instead, it's audio software baked into the phone. Basically, the audio feature restores and "rebuilds" music quality due to fidelity loss stemming from audio compression. Therefore, it delivers a richer, deeper, and clearer sound quality.
In a demo of the feature, we're able to audibly listen to the improved audio quality of a track. Whether you're using the stock music player of the phone, or a third-party one, the Clari-Fi feature will kick in to enhance the quality of those songs. In fact, there's going to be a toggle in the settings, much like the former Beats Audio one in the original HTC One M7, to toggle on/off the Clari-Fi feature when headphones are used.
Conclusion
Sprint had to be different, but we're hesitant to say that this one is going to be a major shaker in the space. Audiophiles are undoubtedly going to eat up all of the audio-centric features and enhancements that are present here, but general consumers aren't going to find anything dramatically new or different with this one. If you're on the lookout for the Harman Kardon Edition of the HTC One M8 for Sprint, you'll be glad to know that it's going to go on sale starting on May 9th for the 2-year contract price of $229.99 with a 2-year contract – or $0 down with 24 monthly payments of $28.34 with Sprint Easy Pay.