Samsung and Nokia tie for first in featurephone Customer Satisfaction according to J.D. Power
20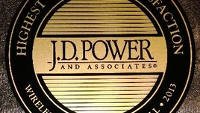 Samsung and Nokia are tied for first place in J.D. Power's latest survey of customer satisfaction in the featurephone end of the mobile industry. Both OEMs tied with a score of 743, above the average score of 735. The survey was conducted amongst 1929 featurephone owners who have had their current device for less than a year. The study took place between February and August of this year.
The study measures four factors including performance (29%), ease of operation (26%), physical design (21%) and features (20%). While the survey does not include smartphones, it does bode well for future smartphone sales for both Samsung and Nokia. That is because most featurephone owners stick with the brand they are familiar with when crossing over to smartphones. LG was third with a score of 732 followed by Pantech (721) Motorola (719) and Kyocera/Sanyo (718).
"It's very interesting to see the correlation between switching intent and how frequently customers use their traditional mobile phone device. It's very critical for OEM brands to provide devices that are easy to use, especially when texting, given the typically small physical size of traditional mobile phones, compared with much larger smartphone devices where touch screens dominate the communication experience."
-Kirk Parsons, senior director of telecommunications services, J.D. Power
J.D. Power also came up with some interesting information. For example, 49% of featurephone users who text at least 30 times over a two day period will switch to a different featurephone or a smartphone over the next 12 months. For those who text less than 10 times over a two-day span, only 32% plan to switch featurephones or move up to a smartphone over the next year. Those who text more than 30 times in a two day period are more apt to be dissasatisfied with their featurephone. More than half of those surveyed, 57% to be exact, bought a featurephone due to the price of the handset or the cost of operating it. 15% chose a featurephone due to its feature set while 14% went by the design or the style of the device.
source:
JDPower
via
NokiaInnovation
via
DailyMobile