Samsung Transfix Hands-on
1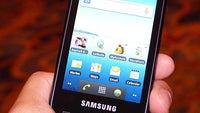 There's no arguing that Samsung wants to get its name out there, so that's why we see their presence in almost every aspect in the wireless industry – including the prepaid market. With the
Samsung Transfix
for Cricket Wireless, you get all the lovable of aspects of any Android 2.3 Gingerbread device, but it packs that always-convenient landscape keyboard to appease those who are driven my messaging. And to top it all, it's sporting a tempting no-contract price of $179.99, which is reasonable considering there are no lengthy contracts required to pick it up.
Frankly, there's nothing that alluring with the handset in the design front, as its follows in similar fashion to other QWERTY based Samsung phones before it – like the
Samsung Intrepid
and
Transform
. Using some cheap plastics, it doesn't necessarily come off as a solid feeling handset, but it does keep its weight on the low side. Opening it up to reveal its landscape 4-row keyboard, we do like that buttons are slightly raised to give it some feel against our thumbs – and, it's nice to find that its retains a row dedicated for numbers.
Turing it on, there's nothing really pretty with its 3.2" HVGA display since it looks very washed out. Again, we can't expect the smoothest experience since it's powered by an 800MHz processor – though, the stock Android 2.3 Gingerbread experience appears to run okay without much stress. Some other features with the Samsung Transfix include a 3.2-megapixel camera, Bluetooth, Wi-Fi, microSD card slot, and 3G connectivity.
Indeed it's not the shiniest thing to come out of Samsung's camp, but if you're simply looking for an affordable Android smartphone with a physical keyboard, the Samsung Transfix just might be the handset you're looking for – albeit, don't expect the most satisfying experience.
Samsung Transfix Hands-on: