Samsung Pay will soon work with online and in-app purchases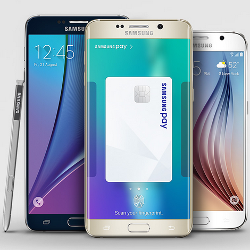 Samsung Pay is already unique. Thanks to its compatibility with NFC supported point-of-sale (POS) systems, and MST (Magnetic Secure Transmission), the mobile payment service works with more retail locations than its rivals do. In other words, even if a retailer doesn't have a NFC setup, as long as it accepts swiped credit cards it will work with Samsung Pay. And 85% of U.S. cards support Samsung Pay thanks to the 500+ banks and credit agencies that have partnered with the manufacturer.
Today, Samsung expanded the capabilities of Samsung Pay allowing it to work with Mastercard's Masterpass online payment service. Sammy had started a trial program using online purchases in South Korea, and is now expanding on it. If an online retailer already works with Masterpass, a Samsung Pay user can deploy their Mastercard, type in their address, and Samsung Pay does the rest. This comes just one day after Google announced that Android Pay would have the same support for online stores that accept Mastercard and Visa.
Another frontier that Samsung Pay is moving on is the one of in-app purchases. Debuting in the U.S. later this year, those with the mobile payment service will be able to make in-app purchases from certain apps using Samsung Pay. The first few apps that will allow this will be Velocity, Raise, Fancy, Hello Vino, Wish and Touch of Modern. Additional apps will be added over time. In addition, starting next month, a new deal tracking feature will lead Samsung Pay users to retailers that are offering special deals to those paying with the service. These offers will be redeemable instantly when a consumer checks out using Samsung Pay.
"When we introduced online payments in South Korea last year, the service was well received by the market. Online payments accounted for more than 25 percent of the 2 trillion won in processed transactions, demonstrating that consumers may be actively looking for solutions to make their online experiences faster, simpler and secure. By partnering with Masterpass in the U.S. and rolling out online payments globally, we will simplify the online transaction experience by eliminating the need for customers to fill out tedious online checkout forms, remember long passwords or fumble for their wallets."-Thomas Ko, VP and Global GM, Samsung Pay, Samsung Electronics
Samsung also announced today that it is expanding the number of countries that Samsung Pay works in to ten, with the addition of support in Malaysia, Russia and Thailand.
source:
AndroidCentral