Deal: buy a Galaxy S9 or S9+, and go to the movies two years for free
11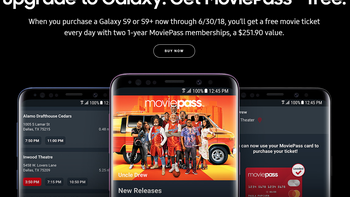 When it comes to promos and partnerships for the US market, Samsung's Galaxy S line can hardly be beat, as it often comes bundled with hundreds of dollars worth of hardware and software freebies. A case in point is Samsung's latest partnership with the
MoviePass
subscription service which comes three months after the
Galaxy S9
and S9+ went on sale.
Purchase one of those two puppies, starting at $719.99, between now and the end of the month, and Samsung will throw in two annual MoviePass memberships for free. That's right, with all the restrictions and limitations that MoviePass brings with it, that's still a $252 value for you, and you'll still be able to watch a movie on the big screen for free every day if you are so inclined.
What you need to do is sign your email up while purchasing the phone(s) online, and the MoviePass offer will be sent to it within two weeks. Click on the "Buy Now" button in the promo email, and the MoviePass card will be on its way soon after registering.
The unlimited service is usually $9.95/month, and lets you browse theaters and showtimes directly from the MoviePass app on your phone. You can then choose the movie, time and location, and just show up to redeem the tickets with your MoviePass card from the kiosk, a sweet deal that will now let you do this for two years with the purchase of a Galaxy S9 and S9 Plus.