Samsung Internet 13.0 introduces new High contrast mode usability, expandable bar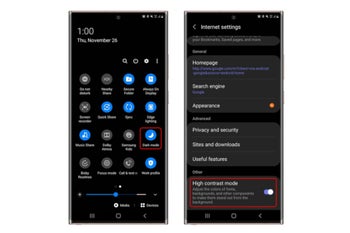 Samsung
revealed three months ago it will bring important One UI 3.0 enhancements to Internet Browser. Some of those improvements have been
delivered early to beta testers
, so we've been able to report on them a couple of times.
Today, the South Korean giant
announced
Samsung Internet 13.0 is ready for prime time. The new version of the browser includes some security and privacy tweaks, as well as new features designed to offer users a better browsing experience overall.
The first thing many Samsung Internet users will probably be anxious to try is the Secret mode, which allows them to automatically clear their browsing history once all Secret mode tabs are closed. There's even a
new Secret mode icon
positioned on the address bar to make it easier to see when it's enabled.
Equally important, Samsung Internet 13.0 brings a so-called
Expandable App Bar
for menus like Bookmarks, Saved pages, History and Downloads. As the title says, the update makes it possible to use
High contrast mode with Dark mode enabled
.
Also, the latest version of Samsung's browser allows users to
hide the status bar
in order to get more screen space. Furthermore, you can now
pause a video
that you want on full screen with Video assistant by double-tapping the middle of the screen.
Last but not least, the most recent update makes it possible to
edit the title of bookmarks
much easier than before. Samsung Internet users should be notified once the update becomes available to download via the Google Play Store or Galaxy Store.