Samsung Galaxy Watch Active 2 rumor review: Price, release date, specs, features, and design
2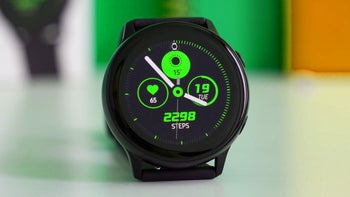 Samsung already has a very healthy lineup of wearable devices. Aside from the flagship
Galaxy Watch
, which is getting a bit long in the tooth already, Samsung has the relative fresh Galaxy Watch Active and Galaxy Fit/Fit e wearables in the portfolio. What's more, one could also make the assumption that older devices like the more rugged and masculine
Gear S3 Frontier
are still viable to this day. Samsung is quite likely announcing a successor to the Galaxy Watch sometime this summer, most certainly alongside the upcoming Galaxy Note series in mid-August.
What do we seem to know about it? Quite a lot, actually! Here's what you need to know about the Galaxy Watch 2!
Galaxy Watch 2 Active
Design & features
No surprises in the design department - judging from the leaked images of the wearable that popped some time ago, the Galaxy Watch 2 wouldn't differ from its predecessor a lot. A traditional, circular device with what seems to be a very large and bright OLED display and no rotating bezel, just like on the first generation Galaxy Watch Active. Although we missed having a rotating bezel on the original Watch Active, we understand it's been omitted in order to streamline the design and be more in line with the sportier characteristics of the gadget.
There seem to be subtle differences in the shapes of the side buttons, as well as a large speaker cutout on the left side of the watch. This indicates that unlike the first Galaxy Watch Active, its second generation will come along with a loudspeaker, allowing you to make calls through the watch itself and not use the paired phone.
We hear rumors that the Watch 2 Active will come in two versions - a Wi-Fi-only one and an LTE-enabled version that will let you use it standalone, without having to bring your phone along. We imagine this would come in quite useful to sportier types who want to exercise as light as possible. The original Watch Active only had a Wi-Di version available for purchase.
The LTE version of the wearable will come along with a larger 340mAh battery as well, whereas the Wi-Fi-enabled Watch 2 Active will feature a 237mAh battery. This would be a small increase over the 230mAh battery of the Watch Active.
We also heard that the wearable will come in two sizes - a 44 and a 40mm version. As a reminder, the original Active was only available in a 40mm version. It's unclear if both the LTE and Wi-FI-only versions of the Watch 2 Active will be available in these two separate sizes or not.
Price and release date
Although the Watch Active came out in March and releasing a Watch 2 Active in August wouldn't make a lot of sense, we wouldn't rule out at all. However, we are more inclined to believe that a Galaxy Watch 2 would be released alongside the Note 10 series regardless of the lack of leaks supporting this notion.




When it comes to pricing, we suppose the Galaxy Watch 2 Active could cost between $199 and $229.






Galaxy Watch 2
It's true that the haven't heard quite a lot about the Galaxy Watch 2 aside from its codename - "Renaissance". Does it imply that the next wearable would be very different from its predecessor? We doubt it. Samsung has struck a very neat balance between features, functionalities, and price tag, so a complete redesign is probably unnecessary at this point.
Design & features
We expect that the Galaxy Watch 2 will still employ the quite useful rotating bezel that makes it so easy to interact with th e interface of the wearable. The sportier Galaxy Watch Active didn't have one, and it seems that the Watch 2 Active wouldn't have one either, but we expect the flagship wearable to retain the useful feature. When it comes to the actual design of the wearable, we expect to see little to no other changes.




We hope that Samsung releases two versions of the Galaxy Watch as well - a 40mm version aimed at the ladies and a more masculine, 44mm variation. Both Wi-Fi and Wi-Fi/LTE versions are expected to make an appearance. This is what we expect of the sportier Watch 2 Active as well.



In-display fingerprint scanner
One of the rumored features of the Galaxy Watch 2 is a... dedicated in-display fingerprint scanner. Yes, that's right - Samsung's next wearable is rumored to be getting the trendy new biometric functionality, which would make it the first smartwatch to have offer such a security feature. The sensor will reportedly be placed at the lower portion of the display. This would allow Galaxy Watch 2 Active users to easily authorize secure payments and access sensitive data straight on the smartwatch without having to input the PIN code. This is the cumbersome user authorization that current Galaxy Watch and Watch Active users have to use in order to make NFC payments.




As we stated earlier, we expect the Galaxy Watch 2 to be released alongside the

Galaxy Note 10

series, which is getting unveiled on August 7. When it comes to price, we can only speculate - we expect the wearable to cost between $329 and $349.