Samsung Galaxy Tab 7.7 LTE unboxing
3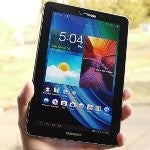 By now, we're all aware that Samsung's Galaxy Tab line encompasses nearly every tablet size out there. Well, if you happen to feel that the Galaxy
Tab 7
.0 Plus is simply too small for your taste, and the Galaxy Tab 8.9 being the opposite by being too large, then you'll probably find the
recently available
Samsung Galaxy Tab 7.7 LTE
for Verizon as the perfect fit for your needs. For something a bit more
form fitting
in the hand than other sized tablets, this beauty is packing some niceties under the hood to still classify it as a respectable tablet in this day and age.
Dead smack right in front of things, we find an accurate sized image of the tablet in question, as it takes center stage with its packaging. Somewhat different from other tablets on Verizon's lineup right now, the Galaxy Tab 7.7 LTE is able to stand out slightly because it's outfitted with a
mostly black themed packaging
. Inside however, we're greeted with the customary set of items that include its documentation, wall charger, and proprietary 30-pin USB cable. Taking into account its
$499.99 on-contract price
, or simply its
$699.99 outright cost
, you'd think it'd be packing along some additional items, but sadly that's not the case. In any event, we've grown to realize that it's perceived as the norm at this point.
Well, we did get
some hands-on time
with this 4G LTE enabled during CES, but we have to admit, it bears many of the design characteristics found with other Samsung tablets of the past. Still, it employs one
sturdy build
that's further aided by its decent choice of materials – though, it's not considered as premium by today's standards. Nevertheless, its amazing
7.7" WXGA Super AMOLED display
is undoubtedly polarizing on so many levels since this type of panel is rarely found with other tablets. Beyond that, it doesn't particularly come off as high-end nowadays in the face of some quad-core packing tablets. Rather, it features a 1.4GHz dual-core processor, 1GB RAM,
3.2
-megapixel rear camera with LED flash, 2-megapixel front-facing camera, 720p video recording, and Android 3.2 Honeycomb.
Frankly, this isn't something that's ground breaking per se, but luckily, it has enough oomph in the tank to probably reel in some people. However, its $500 on-contract pricing might still detract some people, but nonetheless, that's simply what it is. In the meantime, we'll be spending some closer time with Samsung's latest tablet to really get a feel of it all.