Samsung Galaxy Tab 7.7 LTE hands-on
11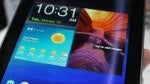 Smack dab in the middle of Samsung's CES 2012 booth was the
Samsung Galaxy Tab 7.7 LTE
that is destined for Verizon Wireless sometime in the near future and we were lucky enough to go hands-on with it.
At first glance we thought, we have seen this before. That's because we have seen it even before
Verizon announced its arrival yesterday
. The LTE version of the Samsung Galaxy Tab 7.7 is
identical to its HSPA+ relative
in terms of size and specifications.
The main attraction of the Galaxy Tab 7.7 LTE is its
Super AMOLED display
with a resolution of 1280x800. We must say that the screen doesn't disappoint and it is truly a pleasure to look at. Images are colorful, vibrant and really pop while text is sharp and easy to read. Viewing angles were good as well.
The body of the tablet is also very attractive.
Measuring in at only 7.9mm thick and weighing less than 12oz
it is very easy to hold and is quite comfortable. When holding the tablet it is clear that Samsung designed it with high-end intentions. The build quality is top notch and the materials they use, such as the metal backing, are nothing short of premium.
Running the show behind the scenes is a
dual-core 1.4GHz processor
and 1GB of RAM. Thanks to its beefy internals the Galaxy Tab 7.7 LTE hummed along without any hesitation. Apps opened instantly while swiping between screens was as smooth as you could ask for. Web pages also rendered rather quickly making our short time with it even more enjoyable.
There is no denying that
Samsung has a winner here
, just as we believed when we did the
preview of it
a few months ago. Still, it is a bit disappointing that Verizon is yet to give it a hard street date. If you aren't in a rush to get a tablet at this moment then perhaps the lack of a solid release date isn't a big deal. Tell us what you think about the Samsung Galaxy Tab 7.7 LTE.