Samsung Galaxy S6 Active unboxing
7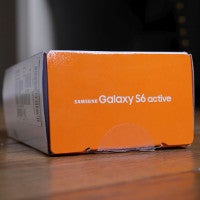 It wasn't the best kept secret, especially because it follows in form to previous years, but the
Samsung Galaxy S6 Active is finally official-official
. Last year's S5 stole a quality once unique to the Active line, you know, that water-resistant construction, but it's once again a key characteristic that makes the Galaxy S6 Active so different from its flagship sibling. Besides that, it also carries along a more ruggedized design that's meant to handle all of what life has to offer.
Exclusive to AT&T, the packaging pretty much follows the pattern we've seen from other phones in the carrier's portfolio. Therefore, what we're given here is an ordinary box that screams conventionality with AT&T's orange and white color scheme. There's barely anything plastered on the box itself, as its sides consist of AT&T's logo, the Samsung Galaxy S6 Active name, and a picture of the phone on the underside.
Both the Galaxy S6 and S6 edge were treated to premium packaging materials, but with the S6 Active, there's none of that magic and wonder that normally comes with the unboxing process. Opening it up, we glimpse the handset first – with the documentation literature behind it. After some additional rummaging, we find the microUSB cable and wall charger.
What's interesting, though, is that there's no SIM removal tool whatsoever included with the box. That's because unlike the Galaxy S6 and S6 edge, the S6 Active features a slot loading nanoSIM slot that only requires our fingernail to access – so it's quick, simple, and effortless. It would've been nice for something super spec'd like this to come along with some additional goodies, but we suppose that its impenetrable nature will be good enough for some folks.
Essentially, the Galaxy S6 features the same high-end specs as the S6, but just like with past Active smartphones, the design is undoubtedly more ruggedized. Gone is the premium materials, swapped instead by a sturdy plastic construction – one that enables it to be shock and water resistant. There are some other minor changes, too, but we'll get into more detail about it our review. Sammy has been setting the pace of late, so it'll be intriguing to see if the S6 Active has enough of the arsenal to attract consumers.
Expect our review soon!